On the right course: Educational opportunities in Herts 2013
Whether you are starting a new career, developing an existing one or want to take a hobby to the next level, Hertfordshire offers a wealth of opportunities to study agricultural, animal care and country pursuit subjects right here on your doorstep. Everything from equine studies to chainsaw maintenance and fly-tying to bushcraft, so if you want to grow the grey cells and nurture the neurones this year it might be that the only thing that's stopping you is…you.
You don't necessarily have to be working towards a formal qualification to enjoy the learning experience, you could choose to join one of the host of local clubs, societies and associations that hold their own educational programmes. These can also be very social and offer the chance to take advantage of expert advice and experience as well as exchange ideas and information with like-minded people in your area.
My selection of courses below is only a taster of what is available across the region so if you don't see anything that takes your fancy there will almost certainly be a course, seminar or club of interest somewhere near you – the Pocket Farm clubs and courses pages are growing continually so check regularly for the latest information.
If you have a course or club that you would like to tell people about please contact me, Stuart Moody, using any of the methods detailed here.
Capel Manor College
Capel Manor is the largest land-based college in Greater London for those interested in the environment, animals or working with plants, trees and flowers. It has centres in Enfield, Crystal Palace, Gunnersbury Park, Regent's Park and Newham College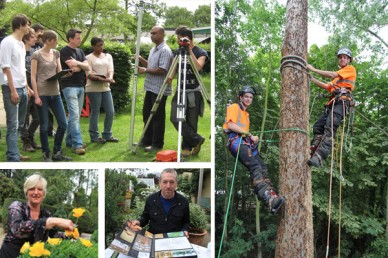 They offer full-time and part-time courses, apprenticeships and evening and professional short courses. They also run two farms, one at Forty Hall Enfield and the other at Crystal Palace. These are open to the public and are used by animal care students.
Courses start throughout the year and span animal care, saddlery, horticulture, landscaping, garden design, arboriculture, countryside management and floristry. There are also regular advice evenings offering the opportunity to discuss courses with teaching staff. The next Enfield advice evening is on Wednesday 23 January, 5:00pm–7:30pm at Bullsmoor Lane, Enfield EN1 4RQ
Starting in February are: Introduction to Working in Garden Centres, a 6 week part-time course starting February 27th and the RHS Level 2 Certificate (garden planning, establishment & maintenance) a sixteen week part-time course starting February 25th
More information for these and other courses can be found at www.capel.ac.uk
Oaklands College
With centres in St. Albans and Welwyn Garden City, Oaklands College offers courses in animal care, land-based studies and also boasts one of the premier equestrian departments in the UK.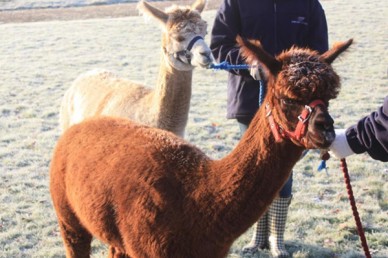 Oakland has offered animal care courses for almost 15 years allowing students of all levels the opportunity to work with small and large animals, acquiring skills in husbandry, management and grooming using state of the art resources. The college keeps a wide cross-section of its own animals including rabbits, mice, pigs, goats and alpacas.
Farming and countryside management needs fresh talent coming into the industry now more than ever and Oaklands' courses are specifically tailored to give you the practical and academic skills for a career working on the land. If horticulture is more your thing then the College's 60 years of teaching experience has seen students winning medals at Chelsea and Hampton Court
The Equestrian centre was an official training ground for the 2012 Olympics and is a examination centre for the British Horse Society so if you see yourself as a coach, groom, stud hand or yard manager there is a course here for you.
For more information go to www.oaklands.ac.uk call 01727 737000 or download a prospectus from the website.
Sustainable Agriculture London
Home of Well End Permaculture International near Borehamwood, Sustainable Agriculture London run courses throughout the year for anyone wanting to grow their food in a sustainable way. Richard Higgins borrowed from pioneers in organic growing systems and low till/zero till agriculture to formulate his own concept of sustainable farming and sanitation. You can learn these principles in courses on permaculture, fruit and vegetable growing, composting toilets, clay oven building and much more. The next Introduction to Permaculture course starts on January 22nd. For more information on this, the principles of Well End Permaculture International and other upcoming courses visit the website here.
The Foragers and Woodland Ways – Survival Skills
Think you could survive if you found yourself stuck in a woodland in the middle of nowhere? You might stand a better chance after a Foragers/Woodland Ways Wild Food Expedition experience. This collaboration between innovative restauranteurs George Fredenham and Gerald Waldeck who run the Foragers wild food pub in St Albans and Woodland Ways, one on the foremost bushcraft course providers in the country, will provide you with a full day of wild food discovery, preparation and cooking and an experience to remember long after. Dates in May, August and October.
East of England Apples and Orchards Project
There are still two winter workshops left this year they are Restorative Fruit Tree Pruning on Saturday 26th January and Identifying Orchard Mosses on Saturday 9th February, these specialist practical outdoor workshops and offer hands on experience and advice for current or prospective orchard owners and fruit tree growers. More information of these courses and the work the Project does preserving local orchards and fruit varieties visit their website here. A new programme of courses will be published in the autumn.
Develop a passion for learning. If you do, you will never cease to grow. Anthony J. D'Angelo.
Most recent News articles