Holistic gardening: Mind, body and soil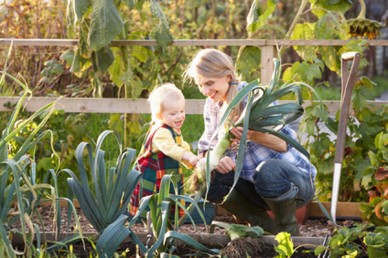 Now that the excesses of the festive period are behind us you might be interested to know that a spot of gardening can do more than keep your plot looking tidy it can help keep you in good shape too. Not only that but, because it can be relaxing, rewarding and get you out in the fresh air, it can be great for stress relief, giving you a sense of well-being which is vital to overall health.
Many tasks around the garden are physically demanding. Activities such as digging can be very strenuous and will burn calories as well as work the muscles of the legs and the upper body without having to step foot in a gym! Other less physical tasks such as raking, hoeing and pruning use the muscles in the arms, shoulders and back and require stretching and flexibility. Even weeding whilst squatting will work the muscles in the legs, whilst walking up and down pushing a lawnmower can burn as many as 300 calories per hour; that's equivalent to a leisurely bike ride!
Set your sights
The Government recommends 2.5 hours of moderate intensity activity a week for adults in order to maintain good health and to lower the risk of many chronic diseases. This can be taken in bouts of 10 minutes or more or you could do, say, 30 minutes on 5 days of the week. Moderate intensity is defined as enough to raise the heart rate and get a bit out of breath. You can still talk but not sing! Most importantly though you should try to be active every day. You should also try to include activities to improve muscle strength on at least 2 days a week. Again, away from the gym this can include heavy gardening i.e. digging/shovelling or carrying loads.
Gardening can be an effective full body workout. Squatting, bending, lifting and reaching are all great for joint mobility and muscle strength whilst all that mowing and digging will get the heart rate up and burn calories. Depending on certain factors such as your weight, general gardening such as raking the lawn, pruning, weeding and clearing leaves can burn 250-300 calories per hour; digging, shovelling and moving heavy items between 300 and 500 calories per hour and very vigorous activity such as chopping logs up to an amazing 1000 calories per hour.*
Easy does it
Remember to take care of yourself while gardening as all that lifting, stretching, bending and twisting can be hard on the body. Always warm up by doing gentler activities before you start anything strenuous. When bending down always bend the knees and use the muscles in the legs to lift and lower. Also keep your back in neutral position, whilst holding the abdominal muscles (the tummy muscles) tightly. This will help to support the spine and the muscles of the back, making it less vulnerable to injury. Use a knee pad/cushion when kneeling to avoid damage to the knees. Gardening involves a lot of repetitive work so try to change position/rotate tasks regularly so you are not doing one type of movement for too long. Think about your posture and keep your spine in a neutral position and squeeze your shoulder blades together to avoid rounded shoulders and slumping forwards. You will probably find you do most of your work on one side so try to change your digging foot regularly to give yourself a more balanced workout. It is also very important to keep well hydrated as it's easy to forget when you're busy in the garden.
Although gardening isn't a replacement for your weekly exercise regime it can certainly be included towards your weekly activity goal. This coupled with the relaxing and therapeutic effects of being outside in the fresh air make it an enormously beneficial way to keep active. Also if you are using your garden time to grow your own fruit, vegetables and herbs you will reap the additional benefits of a home-grown diet too. Your home-grown food is likely to have more nutrients and more taste, making dinner time an experience that is satisfying in every sense of the word. Here's to a happy, healthy, New Year.
Note
All this applies to people who are generally fit with no health complications or mobility issues. Otherwise it is important to build up to these guideline amounts gradually and seek medical advice before you engage in new or increasing levels of activity. As with any exercises, it is important to do them correctly to avoid injury
*Source: Clyde Williams, professor of sports science at Loughborough University
Most recent News articles