Wild Things - volunteering with the Wildlife Trust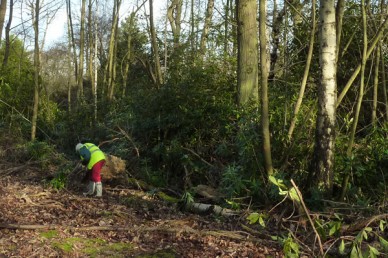 The Herts and Middlesex Wildlife Trust does a huge amount of work each year maintaining nature reserves and raising awareness of the issues affecting the area's wildlife and ecology. Much of this work is undertaken by a willing and enthusiastic network of volunteers who are vital to the Trust's ability to run at maximum efficiency.
I recently spent a day felling trees in Wormley Woods creating scalloped footpaths which open up areas within the woodland and allow sunlight to reach the woodland floor. This will provide new habitat for butterflies and wildflowers, which in turn benefits the whole woodland. The cut wood and branches were used to create dead hedges which will themselves become habitat for all manner of woodland dwelling animals and insects before eventually rotting back into the earth to continue the cycle of growth and regeneration. It was hard work but I found the experience extremely enjoyable, educational, rewarding and being that I found myself in the company of such an interesting group of characters, very social too. I'll be out there again soon and for any of you who would like to join the volunteer army I asked Hannah Lewis, the Trust's Volunteer Co-ordinator, about this and other volunteer opportunities with the Trust and how to get involved.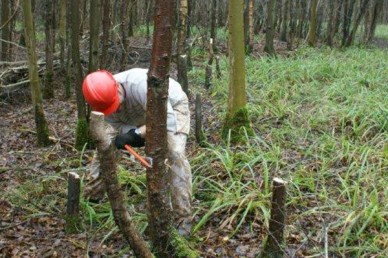 Grappling with a Birch while creating a woodland clearing
What exactly is a Woodland Work Party?
The aim of our Woodland Work Parties is to carry out vital habitat management work. Tasks include coppicing, hedge laying and scrub bashing; the aim is to improve existing habitats for wildlife and create new ones. Woodland Work Parties run from September through to March; work stops during the spring and summer months when nesting season begins. The work parties themselves are a great opportunity to get out and visit some wonderful reserves while getting some exercise, meeting people and learning a bit about wildlife conservation. I always think the best bit of the work party is at the end of a day; when you look back to see what you've achieved – it's very satisfying!
What will I be doing and do I need any experience?
Each work party is different as the tasks carried out will vary from one reserve to another. As a work party volunteer you need no experience at all; you just need plenty of enthusiasm! As I'm sure you can imagine we are rarely put off by the weather so a willingness to work outdoors in any conditions helps. Unfortunately we have a few age restrictions which are set out by our insurers; we are unable to take on volunteers over the age of 80 or under the age of 11. Children under 16 need to bring a parent with them.
Where and when do they take place?
We run work parties most days somewhere within the county. There are monthly work parties on Mondays (Broxbourne Woods NNR), weekly work parties on Tuesdays (Watford and Hertford areas), Wednesdays (NE Herts area), Thursdays (our Green Team is on Thursdays and carries out tasks all over the county) and Fridays (Northaw Great Woods nr Cuffley) and various weekend work parties at a number of our reserves each week. We try to match volunteers with opportunities nearby in order to keep travel costs and carbon footprints to a minimum.
Are there other types of volunteering opportunity?
There are plenty of different volunteering opportunities with us. You can help with events, volunteer in the office, or help us survey and monitor our reserves.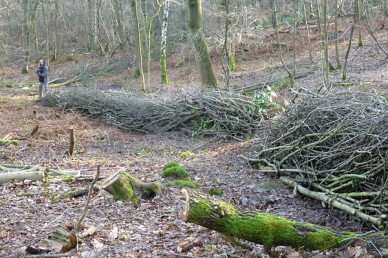 A dead hedge that will become home to many woodland creatures
Do I have to commit to a minimum amount of hours?
There is absolutely no obligation to volunteer for a certain amount of time; we are hugely grateful to anyone that can volunteer however much time they can give. Some of our volunteers help us most days, while others may come once a year.
What if I can't manage more the physical tasks?
We often have other opportunities available for volunteers who can't manage practical tasks and we do our best to find opportunities for anyone who wishes to help.
What should I do next if I decide I'd like to volunteer?
If you are interested in volunteering or would simply like to find out a bit more about what's involved you can give me a call in the office or email me anytime. I am always very happy to speak to anyone that is keen to find out a bit more. My email address is hannah.lewis@hmwt.org and my number is 01727 858 901. Otherwise there is a lot of information about how you can get involved on our website.
Most recent Environment articles