Breed Focus: Transylvanian Naked Neck Chickens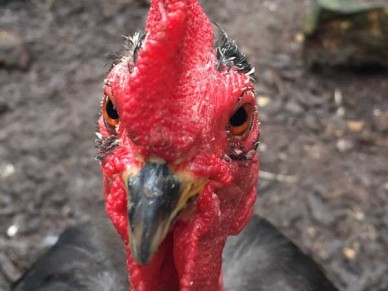 Well, what have we here? You could be forgiven for thinking the Transylvanian Naked Neck is some sort of chicken/turkey hybrid, indeed many have, which has lead to its common nicknames 'Turken' or 'Churkey' but, be assured, that this unusual looking breed is all chicken.
The featherless neck is caused by a gene mutation thought to have first emerged in Romania (hence the name) or Hungary although this trait has been seen in other European countries and the Middle East too. It is also displayed in other bird species such as ostriches and storks although it is not clear whether the same feather blocking molecule is responsible. The breed was developed largely in Germany and examples were documented in Britain from the 1870s but it wasn't until the 1920s that they became more widespread.
Strangely, the birds retain a feathered crown, looking a bit like a toupée, but have a completely naked neck and around half the amount of feathers on their body as you would find on normally feathered birds.

Here you can see the small area of feathered crown
Naked necks are actually yellow skinned but exposure to the sun turns the bald areas a bright red colour, much as you find in turkeys. Males also have a large single comb and large wattles.
This trait means that they are able to cope better in warmer climates than other breeds and this has made them (and their hybrids) popular in hot countries such as Mexico and Southern France where their meaty frame and easily plucked plumage is well suited to the broiler industry. They also lay a good amount of eggs, often year round, making them a great dual purpose choice for the smallholder too.
In addition to this, the breed is considered hardy, resistant to disease and, despite its lack of feathers, still fairs well in colder conditions. They are also enthusiastic foragers who will need little in the way of additional food for those who can offer a suitable free-range existence. All of which begs the question – why don't we see them used more often?

A great all rounder that is still seen a novelty in Britain
Is it because they are not traditionally attractive? Maybe so but I myself think their striking looks and sociable personalities put them streets ahead of some other poplar breeds. Females are good mothers and, although they can struggle to maintain enough temperature for large clutches of eggs (due to their lack of feathers), they will readily raise small broods.
Transylvanian Naked Necks are not widely shown in this country, possibly due to the lack of a breed club, so exhibiting good examples will give you an excellent chance of a rosette. This is especially true at the larger shows, with breed specific classes, where more popular breed classes are highly contested.
Oh, and there is a bantam version if you like 'em diddy too.
Facts and Figures
Classification: rare soft feather: heavy
Standard colours: black, white, cuckoo, buff, red, and blue
Weight: Male – 3.9kg (bantam 965g)
Female – 3kg (bantam 850g)
Eggs: Light brown/brown
Most recent Poultry articles