Pygmy goats part 4(b): Diet - feed according to need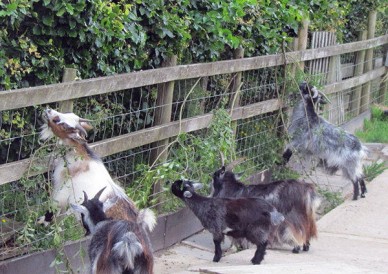 At any time of the year the golden rule when it comes to feeding all animals is to 'feed according to need'. This is especially the case during the long late autumn and winter months when natural forages – hedgerow plants, tree leaves, shrubs and grazing – have little nutritional value, even when available. Then it is the goat keepers responsibility to offer the appropriate feed to keep their stock in optimum health as the seasons change.

Clockwise from top left: Hazel, Beech, Willow and Ash leaves all make good forage at the right time of year
There are as many management regimes as there are goat keepers but the general health of any goat will depend on all aspects of management working in unison. Don't run away with the idea that it is only a matter of getting the feeding right and Bob's your uncle! Every other aspect must be in place – good accommodation, adequate ventilation, appropriate worming, vaccinating and general care – to ensure optimum health.
What is meant by 'feed according to need?'
The nutritional physiology of all goats is similar. They all require energy, protein, minerals, vitamins and water. 'Feed according to need' simply means that their specific requirements vary according to circumstances. This of course applies to all types of goat but we shall be considering what this means in terms of the Pygmy goat.
What factors determine a Pygmy goat's specific requirements?
A pet, or non-productive pygmy goat needs a quantity of nutrients that merely maintains its bodily function. Wethers, for example, require only sufficient nourishment to retain their healthy condition. Amount depends on age and size. The same can be said for non-breeding females.
Its Productive Level. 'Productive level' is the broad term used to describe "any biological activity which results in a nutritional expense beyond that of maintenance level" (Dr R Bogart )
This occurs on several fronts, for instance:- Body growth. Young stock, be they wethers, entire male, kids or female kids, all grow at a fairly rapid rate and need additional feeding right through and into the goatling/buckling stage. Initially this links up with the feeding of the doe, which will be considered next. However, young stock begin sampling hay and a little coarse mix within the first week of birth and this should be encouraged as it helps the development of the rumen.
To begin with they take what they want from the feed bowl of the mother but before long, she will get a little fed up with sharing. This is the time to begin introducing the kid/s to their own feed bowl. A very small amount of mix is sufficient initially, placing the bowl a distance from mum, otherwise she will scoff the lot.
At this stage(six to eight weeks old) most kids will be eating hard feed and hay quite happily on their own, taking about 1oz to 1½ ozs per feed. It will be necessary to separate the kids from their mother during feeding to give them feeding peace. Kids do not eat as quickly as older goats and older ones have absolutely no manners when it comes to pinching food from others! Increase the amount of concentrates gradually but do not be tempted to overfeed. Far better to increase the forage. The kid's rumen should normally be fairly developed by the time that it reaches 10-12 weeks of age.
Foetal development. The in-kid female must have a nutritious, balanced diet, but does not require additional feed throughout the entire pregnancy, unless you want to end up with an obese goat. Increase the feed during the last 6 weeks of gestation and, even then, no need for double rations in my view.
Lactation. During lactation, kids make very heavy demands upon the doe, which is why so many of them lose condition for quite some time, especially first kidders who tend to give their all to their kids. Giving birth also drains the female of certain minerals, especially calcium and phosphorus. Therefore she must be given extra feed not only after giving birth but also for about six weeks prior to it. The amount depends whether she is due to have twins or single kids. However, do not be tempted to overdo the concentrates as there is always the danger of encouraging acidosis: it is probably best to increase the forage rather than massively increase the concentrates. Even after the kids are weaned off at 12-14 weeks, the doe will still require extra in order to regain good condition.
Physical activity. Young stock are by their very nature quite energetic, which helps the development of muscles etc. thus the demand for high energy food. Stud goats tend to require extra feed after the mating season as it is a high energy activity, many losing quite a lot of weight as they can go off food during this period.
What provides the goat with these requirements?
A high quality fibre diet 60-70 percent of a goat's diet should comprise of roughage. The more nutrient dense the fibre source, the less needs to be spent on cereal. Roughage is essential for the efficient functioning of the rumen. A sound knowledge of the functioning of the ruminant stomach is well worth pursuing.
Good quality hay fed ad lib is absolutely, without doubt, the most essential part of a goat's diet. Why is it so important?: Goats are able to digest roughages which contain a high proportion of cellulose, one of the largest potential sources of energy for animals. Roughage/fibre is essential for a goat's well being. Good quality hay, especially if fed together with alfalfa of equal quality, goes a long way to providing it. Hay passes into the rumen – one of the four compartments involved in the digestive process – providing a good proportion of the essential bulk required to keep the rumen active. The large number of micro-organisms and bacteria contained therein are delicately balanced. Cellulose converts to fatty acids which pass through the rumen wall , providing most of the goat's energy needs. These micro-organisms also manufacture essential B & K vitamins. Only good quality hay can play a supportive part in sustaining the delicate micro-organism and bacteria balance, which is so vital in maintaining a healthy rumen.
One important point regarding the rumen that should be mentioned is that it needs to be activated in a kid at an early age. This is so that it will grow to the correct proportions in order to allow the animal to take in large amounts of long fibre to sustain growth. Leaving a kid too long before introducing it to hard feed, hay and water, does it no favours.
Hay can be assessed either by appearance and smell or by having it tested. Agricultural merchants will normally test a sample if asked. Most goat keepers assess by smell and appearance, but this only provides a rough guide to feed value and palatability.
Break open a bale and look for dust. White mould and lack of leaf are sure signs of weathering. Good hay should be bright in colour, smell sweet with plenty of leaf. Pale, tough hay is surely a sign of sun bleaching. Black sided, brown, limp hay suggests that it has been badly stored and exposed to the elements with insufficient ventilation.
Goats will more often than not reject poor quality hay but their rejection or otherwise is not always a true indicator of its feed value. Storage is important. It needs to be kept off the ground and placed on pallets, with space left around the sides of the shed and the bales.
Particular care should be taken to control rats and wildlife which may live in the hay barn as there is a risk of toxoplasmosis, a protozoan parasite which causes abortions and still births if passed on.
What determines the feed value of hay?
(a) The maturity of the grass at cutting. i.e. whether it is cut in June/July or September
(b) Losses incurred during the hay making process. Value can decrease drastically if weather conditions deteriorate and the hay gets wet during the drying off and turning period.
Both of these factors have an influence on feed value of the crop and it is at this stage that its digestibility, energy value and level of crude protein is determined. Buying poor hay is a false economy as you will then need to boost the food requirements with more hard feed. The better the hay, the smaller the amount of concentrates required.
Alfalfa
Think also of including alfalfa in your feeding regime. Alfalfa is a legume which means that it can fix nitrogen from the atmosphere and convert it into protein in the plant. It is an excellent source of good quality protein. It is also a more digestible form of fibre than other sources such as straw.
Alfalfa's deep root system allows the plant to accumulate minerals from the soil and as such it is a useful source of calcium and phosphorus which are used to build and repair bones. These minerals must be supplied in the proper ratios of about 2:1 of calcium to phosphorus. Vitamin D, obtained mostly from sunlight, is essential for their use. Young growing animals and lactating females have high calcium and phosphorus requirements. Bear in mind however that the feeding excessive amounts of either can be detrimental to your goat's health.
What about the feeding of concentrates?
Coarse mix is not as easily digested as forage and a good variety of cereals and pulses are better than a few. It should be a balanced mixture of protein, minerals and vitamins obtained from quality sources, with a balanced amount of each ingredient. Alfalfa and, indeed, good quality hay provide a natural buffer within the digestive tract as cereals tend to create a more acidic environment.
Do not over feed concentrates. Buy the best quality that you can afford as the cheaper mixes tend to contain a large percentage of 'fillers'. Check the feed ingredients printed on each sack of concentrates. Check also that the contents are well within the 'use by' date. If it is not, leave it where it is and buy elsewhere. Remember that at least 60% of the diet should comprise of roughage. A high fibre diet is essential.
Should mineral and vitamin supplements be added?
Much depends on the quality of the hay and the quality of the concentrate. It also depends on whether a well balanced, appropriate diet is adhered to and on the general condition of the goat/s. Over supplementation can cause problems but on the other hand, salts, vitamins and minerals form an essential part of the goat's diet and certainly at specific times when increased demands are made on the animal eg. during pregnancy, lactation and after giving birth. A supplement such as TriselcoB Plus given a couple of weeks before the kid is due, then afterwards and at monthly intervals during the first 12 weeks would be welcomed. 5 mls per dose. Yellow mineral licks which can be utilised ad lib are a useful addition. Seaweed supplement is a good natural source of vitamins and minerals. There is now a Goat Premium Supplement on the market by Brinicombe which appears to be worth trying .
How often should I change the water?
Water should be changed twice daily. It is often called the forgotten nutrient. Without sufficient intake of fresh water, young stock especially can become dehydrated. If possible, offer warm water, as before it can be utilised water has to reach body temperature, so cold water requires additional energy from the goat to heat it up to that level. If it is already warm the goat will be able to conserve more of its energy.
What about offering fruit and veg?
This is not strictly essential but the addition of a small amount of cut up apple, swede, cabbage, banana or even a few grapes is always appreciated, adding variety to the diet. In summary, keep a close eye on your stock as no one knows them better than you. Make certain that all aspects of management work together as well as the feeding regime. Above all, feed according to need and not according to habit.
Assessing the condition of your goat
Before arranging the individual ration of feed for each goat, it may be necessary to assess its overall condition. Remember that the term 'feed' covers not only concentrates, but forage, which should provide at the very least 60-70% of its diet. This would additionally include any browsing material and chopped vegetables offered. Most body scoring systems range from 1 to 5. There are various systems of scoring but all say more or less the same thing in a slightly different way. A score of 3 would be desirable. Anything above or below would suggest that your animal is either too fat or too thin.
Score of 1: Very Thin – ribs easily viewed without contact and easily felt. Sharp spine, each vertebra quite defined. Prominent pelvic bones.
Score of 2: Thin – ribs slightly more covered but apparent visually. Spine can be felt but with a smoother feeling between each vertebra. Pelvic region not so prominent but still not sufficiently covered.
Score of 3: Good – ribs well covered with good spring of rib. Individual ribs can be located. Spine well blended and smooth. Pelvic region quite well covered but still defined.
Score of 4: Fat – Indentation between the ribs can be felt but an overall smoothness present rather than individual identification of each rib. Spine can be located only when pressed. Pelvic region rounded and difficult to define.
Score of 5: Obese – Ribs cannot be felt without pressure, spine – difficult to individually define vertebrae. Pelvic region very rounded with a quite solid fat covering.
References NPGA 'Best of Memo' Bk1 Dr. R. Bogart 'Feeding Pygmy Goats' p18-19 Bk2 Marc Horney PhD 'Goat Nutrition' P12 PGC 'Notes', No99, B.Astle-Bates/P.Mercer 'How Important is Hay in a Goat's Diet?'
Part 5 looks at health issues
Part 1 – Before buying your goatsPart 2 – Providing the appropriate environment
Part 3 – Routine tasks
Part 4(a) – Nutrition – the ruminant stomach
Part 4(b) – Nutrition – feeding according to need
Part 5 – Health
Part 6 – Introduction to breeding
Part 7 – Attending shows
Most recent Livestock articles