Starting with Kunekunes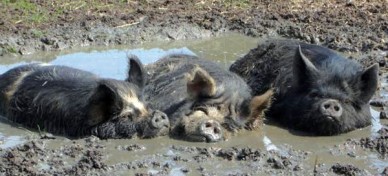 Kunekunes are notoriously clean and tidy – honest!
Pocket Farm explores some of the questions and dispels the myths that will help you decide if Kunekunes are suitable for you…..
Let's face it pigs have appeal – I bet you know at least one person with a pig themed collection don't you? – and the Kunekune (pronounced Cooney Cooney) in particular with it's friendly nature and affinity for humans has done a lot for our national affection for all thing porcine as well as earning them a well deserved reputation as a perfect small farm breed.
You may be surprised to know that it's only thirty years ago that they were facing extinction in New Zealand where they were originally domesticated by the Māori people. They were only introduced to the UK in 1992.
Kunekunes are the smallest breed of domesticated pig and are comparatively easy to manage however, it is important to remember that, even when kept as a pet, the Kunekune is a farmed animal and as such there are certain rules and regulations that you have to adhere to.
First and foremost you must be realistic about the suitability of your property for the purpose of keeping pigs. You will also need to check with your local council that there are no restrictions in place that would prevent you from keeping them on your land. A quick chat with the neighbours to gauge their feelings on the matter would also be a wise move early in the process – as much as you may love them not everyone will be so keen to have them on their doorstep.
Legal Requirements
After these initial hurdles are negotiated and 3 weeks before moving any pigs on to your land you will then need to register with the Rural Payment Agency to obtain your County Parish Holding number. Once you have your CPH number you will also need a movement license to get your pig home. When you buy your seller should be able to help you with this but you will need to register online to use form EAML2 for all movements. The transporter of your new pigs is also required to carry a copy of the Haulier Summary by law. From then on you are responsible for setting up 'movements' each time your pigs are transported anywhere so that means, for example, one each for journeys to and from a show.
You will also need to register you pig/s with the local Animal Health office who will issue a herd number. This number is used to identify where the animal came from and must be applied to any animal that is being moved by means of a tattoo or ear tag. While these procedures may seem lengthy they are important in helping contain the spread of disease should an outbreak occur. Anyway, now they are on your premises you can get on with enjoying your new arrivals. Most people have a stereotype of pigs, firmly etched in their mind from childhood, of a huge lumbering animal wallowing in mud all day waiting for it's next trough of slops – the reality is somewhat different. While Kunekunes do wallow this is summer time activity specifically to keep them cool. In winter they much prefer to stay clean and dry as they can suffer from rheumatism and arthritis. These house proud little pigs will also avoid soiling their bedding wherever possible something you will appreciate when you come to clean them out.
Feed and housing
STOP! No slops. It is illegal to feed waste human food to your pigs (see here for more details). Your Kunekunes will be happiest on a low protein (16% at most) diet of fruit, vegetables and, perhaps more surprisingly, grass which they will graze for most of the year. In winter a mixture of a suitable 16% sow and weaner meal and grass pellets can be fed with an increased amount of protein only when it turns very cold. Due to their penchant for grass Kunekunes need more space than you might expect. As a minimum half an acre for two pigs or an acre for four to five is recommended but this will usually be divided into smaller paddocks to ensure year round grazing is available.
If you intend to keep a boar there will be extra demand on your space as he won't be able to stay in with the sows all year round – Kunekunes can have up to 14 piglets at a time!
As well as a field which should be suitably contained and divided with pig wire or electric fencing what else will your pigs need? Company and stimulation are important for these intelligent and social animals so as well as keeping them in groups you will need to ensure they can display their natural behavioral patterns but providing areas for wallowing and rooting. They will also need an suitable arc, sty or stable with straw bedding for them to 'nest' in and shade from the sun.
If the land gets particularly waterlogged at any time an area of hard standing will help prevent the land becoming excessively damaged.
Health Considerations
Other than that your pigs will also need regular worming and vaccination against the condition Erysipelas, identified by nasty skin lesions and which causes high temperature, affects joints and can be fatal. If you are considering breeding you should also vaccinate against Parvo virus which causes still birth. Your vet will be able to give you more advice on routine vaccination and again it is important to familiarize yourself with the strict rules on maintaining records for all medicines given to your animals either by you or your vet.
Faced with the realities associated with keeping farm animals it is not surprising that the majority will prefer to stick to coasters, calendars and other collectables but for those who are prepared to take on the responsibility the satisfaction that can be achieved from rearing, showing and breeding these hairy little characters will, I'm sure, more than repay the effort.
Notes on 'micropigs'
Kunekunes are are the smallest breed of domesticated pig but this is a comparative measure and you should be aware that references to 'micro' or 'teacup' pigs can be misleading. While they can vary in size adult Kunekunes are generally between 24-30 inches at the the shoulder. This is a sizable animal and one which can weigh in at anything up to 240 pounds. Kunekune piglets are deceptively small even when weaned so don't be fooled as they won't usually reach full size until 2 years of age. While selective breeding can indeed produce smaller examples this is by no means guaranteed and this type of practice can also lead to unexpected and undesirable behavioral characteristics and growth patterns. For more information on keeping or buying Kunekunes visit The British Kunekune Pig Society website at www.britishkunekunesociety.org.uk where you will find a buying guide, event listings, breeders index, a discussion board and membership information.
Most recent Livestock articles