Spring into action: Time to get busy in the garden
As I write this there is still snow lingering on and the ground is still frozen solid. This doesn"t feel like a time to be out in the garden.
With jobs, kids and a multitude of other things clamouring for your attention, you might struggle to get down to the allotment or out into the garden. But nature"s cycles will continue regardless and if we are to make the most of these natural cycles we need to begin planning for the spring now.
If, or in recent years when, the snow falls it's easy to imagine it as freezing, lifeless, growth-suppressing blanket but there are seeds out there relishing this cold as it breaks down their hard outer shells ready for germination – a process known as stratification. Nature is preparing for spring already and so must we.
Compare and contrast
The first part of your preparation should be reflecting on last year. If you keep a garden diary or other similar records, look back on what worked last year and what didn't. If not, just think back and make a note of your successes and failures. 2012 wasn't a typical year for comparison, due to the unusually high rainfall, but there are still important lessons to be learned.
Bear these lessons in mind and think carefully about what to plant this year. We will be planting a lot more perennials than annuals in 2013. They are more likely to be resilient to extreme conditions, generally require less soil disturbance and are often less susceptible to pests. The undisturbed soil helps your beneficial insect friends prepare for spring too.
You may, by now, have already gone through the seed catalogues choosing what you are going to grow and be itching to get things started.
We always split our seeds as early as possible into envelopes marked month by month. It's a simple system that has worked well for years and ensures you don't suddenly find seeds in July that you should have sown in March.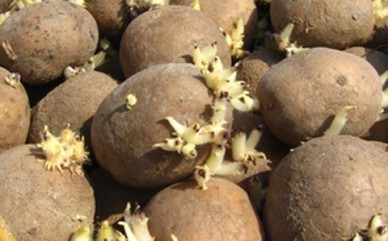 Early risers
Apart from some tree seeds that we are stratifying in the fridge, our leeks were the first of our seeds to be sown in trays in early January. Now is the time to start encouraging your seed potatoes to produce shoots ahead of planting in March or April. Know as chitting. arrange them eye end up in trays and leave them in natural light until the shoots reach around an inch long. Late January is also the time to think about starting tomatoes and peppers in propagators.
We are particularly excited this year about our more unusual perennials, and are hoping our experiments in growing the likes of New Zealand Flax, Soapwort and Swamp Milkweed will be successful. If not, then we will learn from the experience and will have had fun along the way.

Multi-talented Swamp Milkweed has uses as food, fibre and medicine
Pest controllers
Once that lovely, long-awaited Spring warmth finally arrives we will not be the only ones enjoying it. Pests love the warm weather too, so prepare now to deal with them by looking at beneficial companion planting as a part of your planning. Interplanting onions, lettuces and carrots is a classic example: their roots and leaf structures all sit at different levels, so they do not compete with each other and the smell of onions helps to deter carrot root fly.
Some companion plants may well appear on their own and need no introduction by the gardener. Yarrow is a great plant for insects such as lacewings, ladybirds and hoverflies, which will eat aphids and mites.
We interplanted wild strawberries amongst our garlic last year. Some sources suggest this is not a good combination but, both the strawberries and garlic were fantastic for us. This is an area that is definitely worthy of more research – why not try some interplanting experiments yourself in 2013?
Providing habitat for predators will also help deal with pests. You could build yourself a bug hotel but a simple piles of sticks or stones dotted around the garden, some big, some small, some in the sun, some in the shade, will provide cover for a variety of beasties such as lizards and a small pond will attract frogs and newts. Note: Having frogs and lizards living together in your garden is great but, if there aren"t enough slugs around to fill their bellies, a lizard may choose to dine on your frogs instead so perhaps introduce a frog house to provide a safe-haven from that unwanted attention.

Common lizards eat small snails. This one has found a home in a habitat pile on our allotment.
Most importantly, get out there, as often as possible. It may not be appealing when it's cold, grey and drizzling outside, but "the best fertiliser is the gardener's shadow" as the ancient Chinese proverb goes. Spending time in the garden will allow you to monitor your seedlings and will help you keep on top of weeds before they grow out of control.
You can also pick off slugs and snails which you can drop into your homemade fertiliser. When it comes to slugs, the big black slugs do much less harm than the brown ones. Remember "if they're big and black, put them back".
Small weeds are easier to pull up than big ones and getting them out of the soil as early as possible means your precious seedlings have less competition for soil nutrients.
Friend or foe?
However, don't ruthlessly pull up every weed you see. It is often said that a weed is simply a plant growing in the wrong place, which seems a more generous way of looking at them. In fact, the plants that we call weeds are actually performing a required job as part of a natural cycle, and are very much in the right place. For example, among their many other uses, nettles indicate soil that is high in nitrogen, while dandelions use their long taproots to bring up nutrients from deep in the soil. These plants, just like this time of year, may not be not glamorous, but still play a vital role in the garden.
Iain and his wife Wenderlynn are permaculture gardeners who love biting off more than they can chew. They are currently growing food on two allotments, a communal garden bed and a windowsill in a small flat in Hertfordshire, whilst establishing their experimental agroforestry project in Devon.
Most recent Growing articles