Venison, rabbit & pigeon with root vegetable and ground elder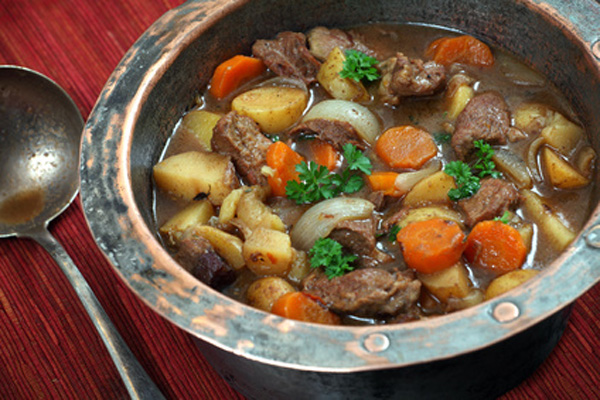 NOTE: Ground Elder (latin name aegopodium podagrariais) is an invasive weed that takes its common name from the visual similarity of its leaves to true elder however, the two plants are not related. Pick young shoots from February to May before it flowers as after this it becomes less pleasant to the taste and, perhaps more undesirably, will have a laxative effect.
Ingredients
2 Rabbits
6 Pigeon breasts chopped & seasoned
250g Diced Venison
50g Rashers smoked bacon finely chopped
2 Onion finely diced
4 Cloves garlic
3 Carrots roughly diced
1 Swede roughly diced
1 Bunch of celery roughly chopped
6 Crushed juniper berries
2 Bay leaves
1 Handful of raisins
½ litre of venison stock (otherwise lamb stock works well)
Large glass of red wine
7/8 sage leaves sage
Salt & pepper to taste
50g Butter
75g Ground elder finely chopped
Method
Firstly the rabbit & venison need to be slow cooked in a bath or casserole dish in order to have the meat from the rabbits fall away from the carcass and the venison to be almost breaking down. Mix the stock, red wine, bay leaves, juniper berries, onions, garlic, celery, raisins & sage and place the rabbits, diced venison into the mixture ensuring they are covered by the liquid. Cook at 120 degrees for 4 hours
After 3 hours take a large pot and melt the butter, add the bacon & brown. Add all the remaining root vegetables turning constantly. The root vegetables should begin to feel soft on the outside but not breaking apart.
Once 4 hours has passed remove the rabbits and pour the juices and venison to the pot removing the bay leaves then adding the pigeon. Simmer for 20 minutes and add the rabbit and chopped ground elder.
Recipe supplied by
The Foragers at the Verulam Arms
, St Albans. They are taking foraged food to the next level at their restaurant and also run other foraging related events, talks, demonstration and expeditions.