Moroccan Spiced Rabbit Stew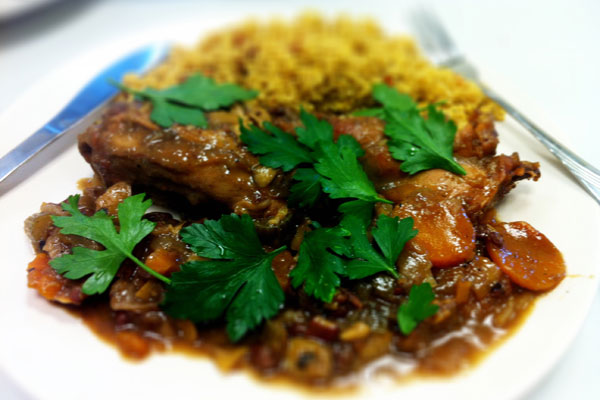 NOTE: Soak the meat in salted water overnight for extra tenderness. A hint of Moroccan spice and fruit in this recipe gives a tasty twist to this foragers favourite without overpowering the flavour of the meat.
Ingredients
2 medium rabbits jointed
3 rashers of smokey bacon - optional
2 carrots sliced
1 onion sliced
2 cloves garlic crushed
2 stalks celery sliced
50g soft brown sugar or clear honey
50g sliced almonds
100g sultanas
2 tsp Ras el Hanout
Bay leaf
Couple of sprigs of thyme
150ml red wine
250ml chicken stock
Plain flour, seasoned
Oil for browning

Method
Heat oil in a large pan, pat the meat dry, season with the flour and fry until browned. Set aside.
In the same pan fry the carrots, onion, garlic, celery, herbs, spices and bacon, if using, until just starting to brown.
Add the the wine, stock, sugar, sultanas and almonds and return the meat to the pan.
Cover the pan and cook in a pre-heated oven at 150C fan for 2 - 2 1/2 hours or until the meat is tender and falling away from the bone.
To continue the Moroccan theme serve with cous cous or, if preferred, it goes equally well with wild rice.