Goat's cheese and roasted vegetable burger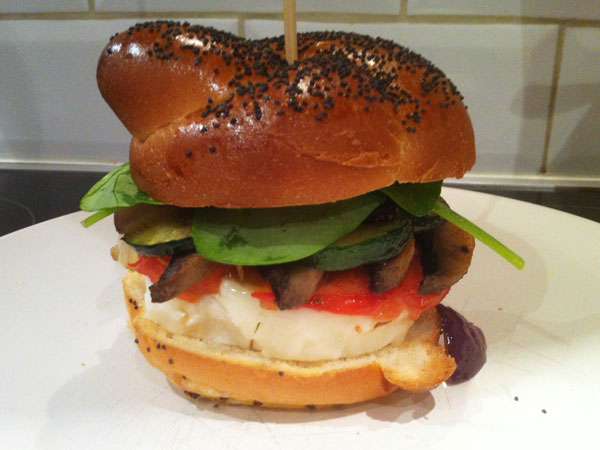 NOTE: This is so easy. Once you have the vegetables cooked it's a simple assembly job to one of the tastiest vegetarian fast foods I've tried. Use a soft or crumbly goats cheese, not a moussey one. Instead of using the roast vegetable method below you can slice the onion and tomato and leave the mushroom flat so they make complete layers and then marinade them in the seasoning before grilling - this makes assembly easier. However, the roasted method does keep the veggies very moist which some may prefer.
Ingredients
This is easily enough vegetables for 4 burgers 15mm slices of soft, but not moussey, goats cheese. A round one roughly the same radius as a burger bun would be perfect
1 large slicing tomato
1 large red onion
1 red and/or green pepper
1 courgette
2 large flat mushrooms
Baby spinach leaves
Paprika
Garlic salt
Pepper
Buns - I chose knotted buns with poppy seeds but you can choose whatever you fancy
Method
Cut the onion, courgette, mushroom and pepper into chunky slices and put into a roasting tin. Drizzle with olive oil and then season with plenty of paprika, garlic salt and pepper. Pop in a pre-heated oven at 200C (180C fan), gas mark 6, for about 20-25 mins stirring half way through
Cut the tomato into 5mm thick slices
As the vegetable approach being ready, toast the bun gently and then assemble the burger onto it. Start with a few baby spinach leaves followed by the cheese, mushroom, tomato and vegetables.
Pop the top of the bun on and secure the burger with a bamboo skewer.

Serve with chips, potato wedges or salad.