Couscous salad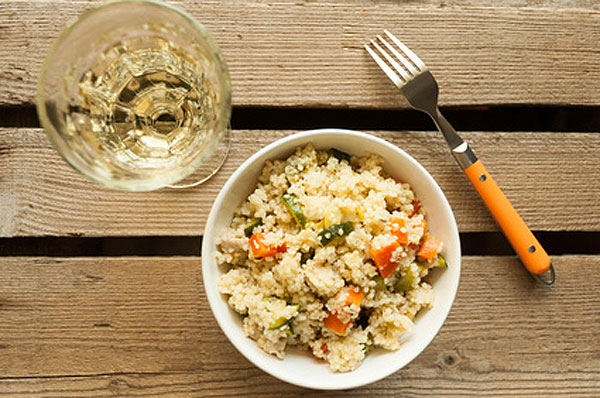 NOTE: For this wholefood recipe you can use 150g quinoa or 150g bulgur instead of couscous if preferred. Serve with a warm soup for a great alternative lunch. Awaiting image.
Ingredients
150g couscous (prepared with same volume of water as per pack instructions)

Selection of vegetables:
2 medium onions, diced, caramelised (sauté in sesame oil, sprinkle soya sauce)
2 medium carrots, diced, lightly steamed or part boil
50g capers, sliced
100g pitted olives, sliced
100g corn (fresh or frozen or canned)
Fresh herbs: your favourites from rosemary, oregano, thyme, mint, flat leaf parsley
1 small cucumber, seeded, diced
2 celery stalks, blanched 2 minutes
Lemon rind
2 spring onions finely sliced to garnish


Ingredients for seasoning:

Olive oil
Juice of 1/2 lemon
3 tablespoons rice vinegar
Juice of 1/2 orange
1 tsp honey
Salt
1 teaspoon soya sauce
Method
Prepare all other ingredients, mix all the sauce ingredients
Fold sauce, vegetables and the prepared grain together mixing well
You could also add some beans, fish or chicken.