Baklava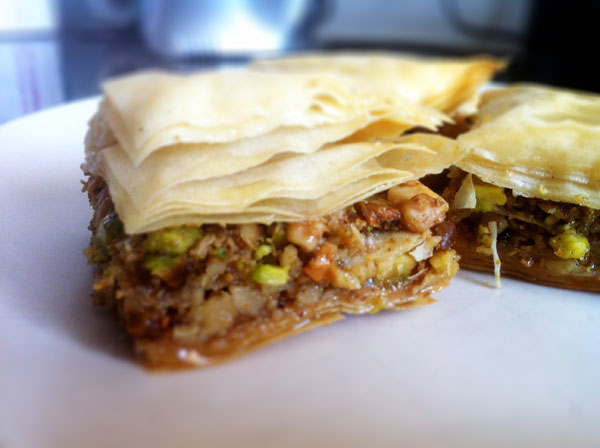 Ingredients
220g nuts - walnuts and pistachios are traditionally used but you can experiment with your favourites
220g filo pastry or ready made sheets
60g caster sugar
125g melted butter
1/2 tsp ground cinnamon, you can also add 1/4 tsp of ground cloves or cardamon

For the syrup
120ml water
120g granulated sugar
60ml honey
15ml lemon juice
Cinnamon stick

Method
Pre heat the oven to 150C (adjust for fan oven)
Crush or chop the nuts into small pieces or large crumbs, add the sugar and cinnamon and mix thoroughly.
Cut your filo pastry sheets to fit a 9inch square tin. Lay a sheet in the the tin, brush with melted butter and repeat with seven or eight more sheets.
Add a thin layer of the nut mixture and then cover with two or three more sheets of buttered filo sheets.
Add another layer of nuts and finish with another seven or eight layers of buttered filo.
Cut into 16 even squares before popping into the oven for 30-35 mins.
Remove when pastry is golden brown
While the Baklava is cooking prepare and make the syrup
Mix all the syrup ingredients in a pan and bring to the boil. Simmer for seven to eight mins until it starts to thicken, then remove from the heat and allow to cool slightly before spooning over the Baklava while it is still warm.
Leave to cool thoroughly.