Reaping what you sow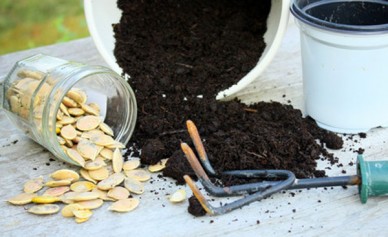 This is the time of year when, for centuries, people have traditionally celebrated the return of lighter evenings. It was a hugely significant time in the Celtic calendar where it was hoped the ritual celebrations would assure a plentiful food supply until the next harvest. Know by different names Saint Brighid's Day (after the goddess of fire, healing and fertility), Imbolc or Candlemas, it is associated with the onset of spring, germination, regeneration and is symbolised by lambing ewes (Imbolc is thought to have come form the Gaelic word for ewes milk).
We could get our own celebrations underway by getting down to some planting. Some seeds can be sown outside by February, especially those which benefit from stratification such as lettuce, parsley or sage. Whether it's a space in your garden or allotment, a pot on the windowsill or you fill the propagators with plants such as Echinacea, vetch, tomatoes or peppers to plant out later the spirit is the same.
If you are not so green fingered you could perhaps indulge in a bit of guerrilla gardening by launching a seed ball or seed bomb into a hedge or derelict piece of land where you can watch it germinate and flourish.
It's also a time to reflect on the last year and perhaps to catch up with the little things that often get neglected throughout the year, this used to mean reading poetry or telling stories but you may have other contemporary ideas that are just as fulfilling and, as we leave behind the dark evenings, perhaps consider starting a new project or trying something you have been putting off and you will have planted a metaphorical seed for yourself too.
Most recent Blog articles