Pygmy goats part 1: before buying your goats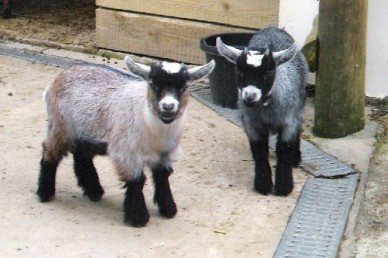 As with any livestock, if you are thinking of keeping pygmy goats, there are certain considerations that will have to be addressed before you get started. The first in a series of articles addressing the principle facets of pygmy goat ownership.
What are the financial implications?
Consideration has to be given not only to the cost of buying pygmy goats, but also the cost of setting up an appropriate environment for them to live in. On top of this there is also feeding, bedding and of course the inevitable veterinary bills that crop up from time to time no matter how well provided for your goats may be. These costs will depend entirely upon on your setup and the amount of goats you keep so, wherever possible, you should seek advice from other experienced keepers on what bills you can expect, especially if the intention is to buy goats for breeding purposes. If access to such advice is not readily available locally, you can contact The Pygmy Goat Club secretary.
What are the legal requirements?
There are certain legal requirements before goats can be brought onto your premises. First of all, a County Parish Holding Number (CPH) has to be obtained from the Rural Payments Agency which can be contacted on 0845 6037777 (Customer registration option) or The Welsh Assembly Government if you live in Wales. You will asked a few questions about your holding including the location and the activities to be undertaken – goat keeping in this case – and you should receive your number a few days later.
All livestock must be tagged either with an identical tag in each ear or a single tag and a tattoo. The tag has to have the herd number relating to the holding of the person from whom the goats were purchased and a unique individual number. There are several types of tag available, round button tags are popular with breeders and tend not to get caught as readily as some but, alternatively, Allflex D tags (pic below) have thin pins that tend to break more easily than thicker pinned varieties avoiding ear damage.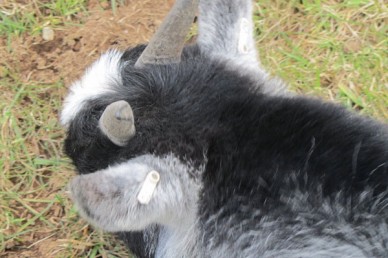 Any movement must be accompanied by an Animal Movement Licence (AML) which has to be completed and returned to your Local Trading Standards Office within three days of arrival. They should also provide you with a Movement Record Book in which you must record all movements. Finally, at some stage within 30 days of arrival of your stock you will also need to contact the Animal Health and Veterinary Laboratories Agency to be issued with a unique herd number.
Pet goats or breeding stock?
First things first, goats are herd animals so you should never keep less than two. While all pygmy goats are pets, there is a distinction to be made between pygmy goats bought as pets and those bought as breeding stock.
While the final decision is ultimately yours, if your animals will be kept purely as pets then you might perhaps consider purchasing two or more castrated males or faulted females which, for example, may have an extra teat or a mouth fault. These will be cheaper than registered stock and castrated males will not smell or display any of the undesirable characteristics of an entire male, which are very difficult to keep and not recommended for novice keepers at all.
Expect to pay £150-£185 for a wether and considerably more for females and entire males which start at around £250. Prices for faulted females will vary considerably. Mouth faults in females should be fully determined for both type and degree of severity as some faults can prevent them managing their food properly later in life. Certainly don't consider one with a twisted jaw – such a goat would be better euthanized as soon as possible after the fault is diagnosed.
Animals that are brought up together should continue to get along but it can be more difficult to introduce new stock to an established herd. If considering buying females for breeding purposes, then the best advice would be not to rush in and purchase the first 'cute' ones seen.
I would advise buying stock registered with the Pygmy Goat Club as this is the only way of determining their status. Any breeder worth his or her salt should be able to provide a four generation pedigree, easily obtainable from the Pygmy Goat Club website. If you do not have the experience to confidently assess the value of a goat's pedigree then, again, consider joining the Pygmy Goat Club before starting your search.
Your Regional Advisor should be able to advise you on the best breeders to approach, either in your area or further afield. If at all possible, take an experienced breeder with you before deciding on which stock to buy, as having foundation stock with good conformation can save years of mediocre breeding, trying to improve your herd.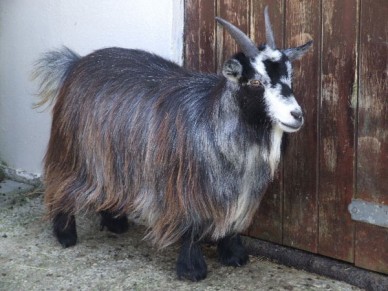 A quality pygmy female from the Maesgwyn herd
One final point to remember when buying registered stock, is that you should ensure that the seller completes a Transfer of Ownership form and sends it, together with a £1.50p fee and the current registration form, to the Pygmy Goat Club's registration officer. She will then send a new registration form to the new owner. If this is not done, then any future off-spring cannot be registered.
Basic environmental requirements
When listed these are straightforward. You will need to provide:
Appropriate housing
A paddock. Grassed area free of poisonous plants and with a field shelter available if the permanent shelter is not adjacent to it. For those with just a couple of goats in a relatively small space the outside area should be converted to hardstanding to avoid a heavy worm burden building up.
Secure fencing
Suitable bedding. Different types are available.
An area of hard standing adjacent to both the field and permanent shelter.
A suitable play area.
Part two looks at the environmental requirements in more detail
Part 1 – Before buying your goats
Part 2 – Providing the appropriate environment
Part 3 – Routine tasks
Part 4(a) – Nutrition – the ruminant stomach
Part 4(b) – Nutrition – feeding according to need
Part 5 – Health
Part 6 – Introduction to breeding
Part 7 – Attending shows
Most recent Livestock articles