Product review: Norfolk Chicken Barn 'Ecoflex' poultry house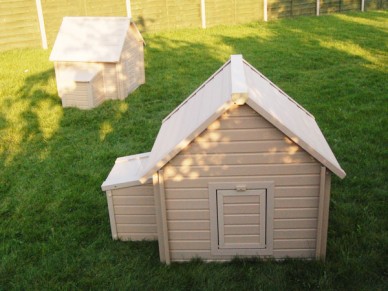 The Norfolk Chicken Barn is an attractive traditionally shaped coop but that's where tradition ends with this innovative new product.
Made from Ecoflex – a mixture of recycled polymers and wood byproducts that would normally be burned or dumped in landfill – the coop is weather proof and doesn't expand and contract like wood meaning it won't rot, twist, buckle or splinter. The manufacturers say that their products can last up to 4 times as long as equivalent wooden structures.
The slot together system is easily erected, without the need for tools, in under an hour. The instructions refer to numbers that are clearly printed on the parts and the quality of manufacture is such that the whole kit assembles with minimal fuss.

Slot together design requires no tools for assembly
Routine cleaning is achieved by simply removing the roof slats. The Ecoflex construction also has the benefit of being a less attractive habitat for the dreaded red mite however, even if you do get an infestation, any unwanted visitors are easily flushed out.

The coop is quick and easy to assemble – although not this quick!
The Norfolk is suitable for up to six chickens and is available from Handpecked Poultry who will ship nationwide. See the website here or call Tel: 07759 680 160
Most recent Features articles