Product review: Easichick bio-secure poultry bedding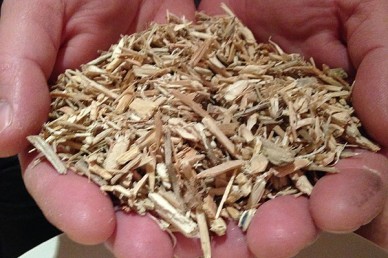 Easichick, which won a national quality product award last year, is a manufactured poultry bedding made from recycled wood fibre. It is treated with an organic additive making it bio-secure and therefore bacteria-free. It is made by Hadfield Wood Recyclers, one of the UK's biggest wood recycling companies which is well-known for its animal bedding products including others in the 'easi' range such as easibed for horses and easicattle for dairy cows.
The bio-secure element of easichick is what makes it unique. Offering near zero counts for moulds, salmonella sp., pseudmonas, aspergillus sp., avian influenza and entero bacteria*, easichick is ideal for nesting boxes as it protects eggs from harmful bacteria. It is also great for hatching eggs.
After testing easichick for several weeks in my own coop I have found that it has several advantages over more traditional litters such as wood shavings. Even though the pack is tightly compacted when sealed, when opened the bedding breaks up readily making it easy to distribute. I have also noticed that because of the way it is shredded it is far less likely to be blown around by the wind than more traditional wood shavings.
Don't take my word for it though, when we asked champion breeder Bev Nelson about it this is what she had to say:
"easichick is great, it can be trampled on but it doesn't compact down so it keeps the bedding free and much drier. The time between cleaning out our houses has doubled compared with other types of bedding. It's made a massive difference to us."

Award winning breeder Bev Nelson with some of her hens
Bev is a self-taught chicken breeder and still holds down her day job as an optometrist, while running Bev's Rare Breeds – an at-home chicken keeper's supplies business she started with her husband Matthew.
"For a breeder bio-security for birds in the early weeks is really important as bacteria can be really harmful. Because easichick is bio-secure it helps protect them from bacteria, it smells clean and stays clean and that's the best you could want for your birds".
Bev started winning championship prizes with her birds about four years ago and among her accolades she can boast breeding the National Poultry Show Champion Silkie Bantam in 2011 and the Champion Booted Bantam 2012 and 2013.
Her Croad Langshan also won at the Cheshire Show last year and her Large Croad Langshan also triumphed at the National Federation of Poultry Clubs annual show in 2012.
easichick is available in 10kg bales nationwide. For a list of stockists and further information visit www.easichick.co.uk You can also follow easichick on Facebook and Twitter for news from the company, offers and competitions.
* 20 organisms/gram (Aspergillus); 10 organisms/gram (Entero bacteria); 20 organisms/gram (Moulds); 20 organisms/gram (Pseudomonas); and not detected in 25g (Salmonella).
Most recent Features articles