Mini Moos: The world's most popular beef cattle 'repackaged' for smallholders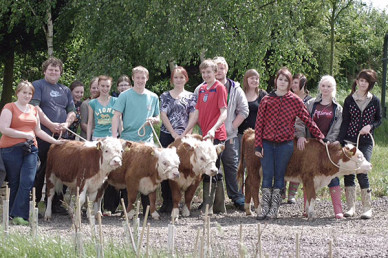 Pocket Farm talks to Malcolm Gough about his journey from fledgeling farmer to one of the UK's few breeders of pedigree miniature Herefords…and yes, that is their full size!
Herefords, with their red coats and distinctive white faces, are perhaps one of the most recognisable breeds of cattle in the world. They originated, as you might have deduced, in the county of Herefordshire in the mid-1700s and the herd book was established 1878 with queen Victoria as the patron.
Supremely adaptable, the Hereford can be found all over the world in climates ranging from the extreme Russian cold to the hot, arid regions of the Middle-East and Africa. The breed is renowned for its ability to produce a premium, naturally marbled, meat from grass, hay and haylage. It continues to excel as modern organic and economic systems develop and with its reputation for easy calving too it's no wonder that the beef industry has adopted the Hereford so widely.
Cattle, even relatively compact, low maintenance breeds such as the Hereford, remain a step too far for many smallholders primarily because of the amount of land they require and the cost of feed – especially if they need additional rations during the winter. At around an acre per animal, demands are high. Some also believe that the additional paperwork involved in keeping cattle is a deciding factor although those that do generally dismiss this as insignificant?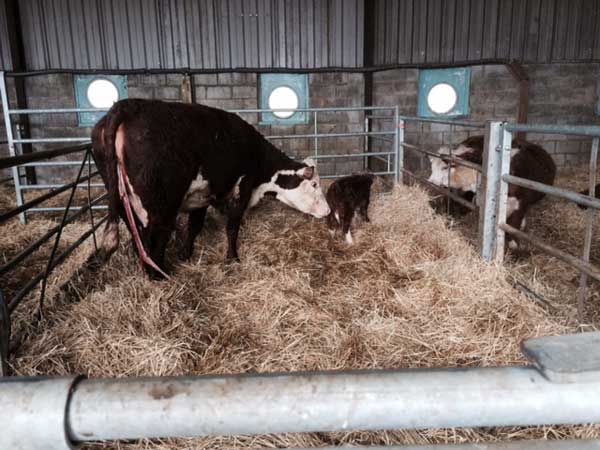 Herefords are great mothers and here is a standard cow with her tiny mini offspring
But what if there was an animal that had all the advantages of the large breed in a more compact and a manageable package? Of course the Dexter has been fulfilling this niche for some time and is a breed steadily growing in popularity. However, there is now an alternative that widens the options for smallholders and makes small-scale cattle husbandry a much more viable proposition.
From the land of excess…
At the start of the 1970s, when most breeders were trying to increase the size of their stock, a pioneering selective breeding programme in Fort Davis, Texas, produced a mini variety of the omniscient Hereford. The Largent family had seen a preference for smaller animals developing among both commercial and hobby keepers and by breeding the smallest examples eventually arrived at a miniature version of the large breed – with pedigree still perfectly intact. These diminutive facsimiles have all the same desirable characteristics in an animal less than 50 percent the size.
After 1989, when breeding stock became available, mini Herefords became more widespread in the U.S., Canada and Australia.  Now, thanks to an implantation programme developed by Malcolm Gough and his wife Lesley at Chater Valley Farm, the opportunity to own them in the UK has become a reality.
The story starts about 6 years ago when the Goughs bought their 40 acre holding. They had no previous farming experience but knew they had to find a niche to make the relatively small amount of land pay. "We initially stocked rare breed pigs Saddlebacks, Large Blacks, Oxford Sandy & Blacks, Gloucester Old Spots and our favourite, Mangalitsas". Malcolm explains. "In our first couple of years we had about eight sows and 2-3 boars, which at peak meant we had something like 120 pigs/piglets on site. Our timing was awful – the price of pork halved just as it seemed the price of pig feed doubled."
Then, by chance, Malcolm read an article in The Times about the miniature Herefords and the niche they had been looking for became clear – could they stock some of the smallest animals on the smallest farm in Rutland, the smallest county in England.
Initial problems with the programme
Enquiries in Australia and the U.S. encountered problems with the various authorities not being able to agree on a common set of guidelines concerning health and disease control issues when importing the cattle. However, further investigation revealed that you could quarantine them in Canada and then, at the point that they had become Canadian animals, import them directly to the UK. Progress. While looking at the practicalities of this the Goughs were fortunate enough to find a Canadian breeder of Mini Herefords and eventually managed to kick start their breeding programme when she agreed to sell them embryos that could be implanted into surrogates here. Although they could have been implanted into any breed they decided on full size Herefords as "…it seemed the natural thing to do. Herefords were already well known for their quiet disposition and excellent parenting skills and were also of a size that the tiny calf could still suckle" Malcolm explains.
They brought an initial herd of 10 maiden pedigree heifers from the now dispersed Wrights herd in Cambridgeshire. "We realised early on that we needed stock with a proven health status as we wanted our foundation herd to be 'clean' and that included the surrogates. This risk also vindicated our choice to go down the embryo route as the health regulations around embryo flushing are very strict, not least when exporting to the EU." 
"We have implanted once a year (7-10 embryos), and sometimes twice on the same heifer if the first embryo didn't take. There seems to be some disagreement as to whether you should always use maiden heifers as the surrogate mums. We have re-implanted several of our standard cows but I'd say the success ratio is definitely falling. The best ratio we have achieved was seven from nine in one year; the worst was a miserable two from 14."
Small wonders
They now have a natural breeding programme running alongside the embryo implantation with Challenger, born on March 13th 2013, being the first UK naturally calved miniature Hereford.

Challenger as a newborn being carried by Malcolm…..

…and at six months old
Five years and a steep learning curve on they have now bred 19 of the miniatures (10 bulls and nine heifers)from 40 implants.
Malcolm is keen to establish the pure miniature variety in this country but there has also been lots of interest in crossing them with other breeds with examples of Highland, Belted, Angus and most popularly Dexter – which produces and more predictable and beefier animal – crosses already roaming the fields.

Crossing the mini Hereford with a Dexter produces an animal with a meatier carcass…

…and this is just cute as hell!
"We originally didn't want to sell our bulls for others to cross-breed but it's been a very expensive process and selling the bulls has helped to offset the costs. We have tended to let the bulls go to people who would like to breed the mini Herefords in the future which will help maintain a viable gene pool."
So can smallholders really keep cattle?
The figures really seem to stack up for small-scale keepers with the miniatures consuming 40% less food but still producing up to 60% (by weight) of the prime cuts. They will generally consume only a third the intake of their larger cousins over winter too so pasture, hay and haylage requirements are all reduced considerably. Saving are also made due to the fact that the breed matures early with a to slaughter age range of between 12-18 months. In general you can expect to keep up to three times as many per acre – with less damage to land and yards – making them much more viable for the small-scale keeper.
Hereford beef is a premium product with natural marbling and great colour with high Omega-3 fatty acid content – all of which are attributed to the grass based diet. It is also considered to have a longer shelf life making Hereford beef a unique and desirable product that should be easily marketable – especially where smaller cuts are required.
You might be wondering if you could milk them making them dual purpose? Well they are traditionally a beef breed and will perform best when kept in this context but there is certainly no reason that you couldn't if you can find a bucket small enough to go under them.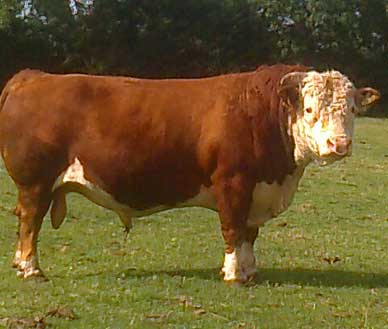 Without anything for scale they still look sizable beasts but this impressive looking bull is less than half the size of a standard Hereford
Chater Valley Farm currently has mini Hereford bulls for sale as well as semen for insemination. In addition they have also flushed embryos from their own stock with which they have already supplied to a breeder in Norway. Purchasers of bulls will be given priority when heifers become available – something they expect to achieve in around 2-3 years time.
Most recent Livestock articles