Large Black pigs: the gentle giants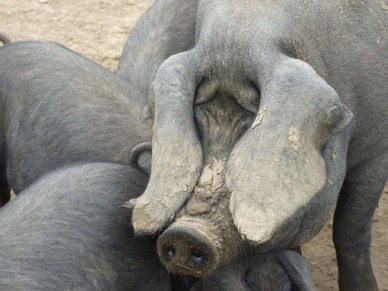 Pocket Farm often features more compact breeds when it comes to livestock and this is primarily because they often suit smallholders by being easier to handle or less demanding of space and food. However, occasionally that goes by the by and wonderful temperament and manageability are wrapped in a much larger package and that is exactly how we come to feature the Large Black pig.
The Large Black is just that – a sizeable animal and Britain's only entirely black pig. It is also one of the rarest.
As with many of our traditional breeds, a focus on more commercially viable pigs (specifically the Landrace, Welsh and Large White) after the war saw a dramatic decline in numbers and when the Rare Breeds Survival Trust was founded in the early 70s the Large Black was placed on the critical list. The population has now recovered slightly from this low but is still categorised as vulnerable along with the British Lop and Middle White.
The Large Black is one of our oldest breeds and thought to be descended from the 16th century Old English Hog with the possible addition of genetics from imported Chinese stock. As a dual purpose animal the pure bred Large Black is prized for its slowly matured pork and bacon and, after the formation of the breed society in 1889, it flourished both in the show ring and as a popular choice to cross with whites. People often ask about the black skin so, for those who are wondering, the pigment is only skin deep so the rind of butchered meat is white.
The breed is well known for being extremely docile and easy to handle despite its size and consequently can be contained using just one or two strands of electric. This easy going nature carries through into their maternal duties too where these wonderful mothers can raise litters of nine or more without the need for any specialist diets.

Large Blacks are great mothers to their large litters
The Large Black is also a very hardy breed. Able to resist sunburn due to its colour it is perfectly happy outside all year as long as you provide an environment that includes the holy trinity of pig requirements – a wallowing area to keep cool, a suitable shelter and additional rations when required.
The Large Black at a glance
Large Blacks have been know to breed until they are 10 years old or more
Average live weight: 300kg
Uses: Pork, bacon, cured ham products
Slaughter weight: 60-75kg for pork (at about 6 months) and 100-110kg for bacon (at about 9 months)
Litter size: 9+
Registration: You must be a member of the BPA to birth notify and register your pigs thier website is www.britishpigs.org.uk
For more information about the breed or where to buy stock contact the Large Black Pig Breeders Club at via their website here.
Most recent Livestock articles