Impacted crop and sour crop
A chicken's crop is located immediately beneath the neck, against the breast, and just right of centre. When a chicken has eaten the crop extends to accommodate the food and can be clearly seen as a 'swelling' when it is full. Food is stored and partially digested by enzymes in the crop throughout the day, before being released for further digestion in the gizzard as and when required.
There are two main crop problems that chickens will suffer from – impacted crop and sour crop.
Impacted Crop
Some chickens, especially large hybrids, because of their huge appetite, can get an impacted crop; this is usually due to a blockage caused by too much food, or stringy grass, but can also just be due to a loss of tone in the muscles around the crop.
Normally a chicken's crop should be full at bed time and empty in the morning. If the crop is still full in the morning and feels firm or hard to the touch it is blocked and you will need take action to clear it.
Having detected that a chicken has an impacted crop greatly restrict the amount of food intake and be sure to keep the chicken hydrated.
The two most used treatments are:
1. Syringe some warmed olive oil into the side of the beak and massage the crop gently to attempt to loosen the blockage. Do this three or four times a day. If successful the blockage will have been loosened enough to be digested in the normal way.
2. Feed the chicken with white maggots. They will munch their way through whatever is causing the blockage. You must use white maggots or pinkies. The dye in the coloured maggots is toxic to chickens. Pinkies are simply small maggots that are pink when young but turn white as they mature and are safe to feed to poultry.
Once resolved it is important to stop it happening again – a previously impacted crop will be less elastic and therefore more prone to over-filling in the future. Remove any stringy grass or weeds from the area your chickens graze in. Do not feed bread (this is true for any of your chickens) and try to limit the amount they eat to only what is necessary. You should always ensure there is enough grit available to your hens to aid digestion.
If this treatment has not been effective after three or four days the contents of the crop will become sour owing to a fungal infection caused by the fermentation of the crop contents.
A recurring problem of crop impaction can be treated by a vet who will empty the crop by means of surgery. This has a reasonable success rate but can be expensive and the use of anaesthetic is high risk for chickens.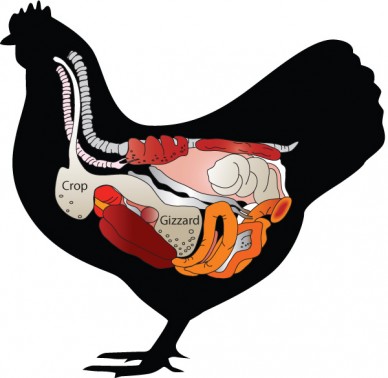 Sour Crop
Sour crop can be identified if the crop has not emptied and is soft and squidgy when you feel it. On opening the chicken's beak you will be greeted with a foul smell caused by the fermenting contents.
There will be a fair amount of fluid in the crop which will need to be evacuated. To do this hold the chicken upside down with the head away from you and gently massage the crop from the bottom to the top so that the fluid can drain from the crop. Do this slowly, in short spurts of few seconds, allowing fluid to drain out, then lift the chicken upright again slowly. Give the chicken time to get its breath back (a chicken cannot breathe properly upside down and there is unnatural pressure on its internal organs) then repeat the process.
When no more fluid drains from the crop allow the chicken time to calm itself and offer a small amount of food and water. A little live pro biotic yoghurt can also be given to help combat bacteria still in the crop although unless the blockage has fully cleared it is unlikely to be effective. Apple cider vinegar and garlic added to drinking water or treats also acts as a good anti-bacterial after draining and can be introduced as part of your chickens' regular health routine.
Give small amounts of food and ensure the chicken remains hydrated. Continue emptying the crop of fluid for at least three days or until no more fluid drains out, whichever is the soonest. Continue giving live pro biotic yoghurt until the crop no longer remains full and returns to normal.
Both of these conditions can be fatal due to choking therefore, in the event that the problem persists for more than a week, seek a vet's advice as a course of anti-fungal medicine may be required.
Most recent Poultry articles