Poultry health: prolapse of the vent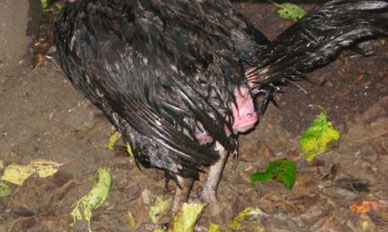 During the process of laying an egg the lower part of the hen's reproductive tract is temporarily turned inside out which lets the hen lay a very clean egg. Sometimes the tissue doesn't retract after the egg has been laid and this condition is known as a prolapse.
Prolapse is usually more prevalent in older laying hens although younger hens can also suffer if their diet is not properly balanced. Ex-batts are particularly prone with their enforced daily laying routine meaning they can develop the condition at any time.
There are things you can try to help remedy the condition but the very first thing to do is isolate the affected hen from the rest of the flock. This is because if any other hens notice they will peck at it unmercifully which can lead to more serious problems than the original prolapse. You should also stop feeding layer's pellets/mash and give her mixed corn instead.
Rest and relaxation
It is possible that under the right conditions the prolapse can retract and heal on its own but for this to work your hen will need to be isolated, kept inactive and need regular attention.
Clean her back end off as best you can by holding it over the kitchen sink and letting warm water run over the area. This might enable you to dissolve any dried poo on the prolapsed tissues. Do not pull or pick any poo from her vent, it could harm the fragile tissues so it is safer to leave what has not washed off. Isolate the hen and try to prevent her from producing eggs for a few days so the tissue isn't re-stressed. This allows many prolapses to heal on their own.
The recommended way to stop the laying process is to put the hen in a dark environment, the darker the better. Egg laying is dependent on the light/dark cycle of day and night. Reduce feed to a mere maintenance level and replace layer's mash or pellets with corn so there is no "extra" nutrition that the hen needs in order to produce an egg.
This is most easily achieved using an old pet carrier or crate situated in a quiet, warm room.
Line the crate using a good layer of whatever bedding the hen is normally used to. Ensure she has feed and water dishes, preferably the type that can be attached to the door or sides of the crate so that she is unlikely to spill her water or food all over the crate floor. Keep her quiet and in the dark and she should settle down well.
Check on her at regular intervals – set a time, say hourly or two hourly at first, then the time can be lengthened after the first day if she appears to be improving. A visit twice or three times a day should then suffice .
Turn on the light when you go in to check her so that she can see her food and water to enable her to eat and drink if she wants to. This is a chance to lift her out of the crate and check her vent and give her a little fuss. Do this whilst you are cleaning away any poo, replacing any bedding and replenishing her food and water.
You can offer her scrambled or chopped up hard boiled egg mixed with a little cod liver oil and Vitamin E. The egg offers perfect protein for healing damaged tissues. The cod liver oil is also a good healer and helps fight infection. Vitamin E is a valuable aid to repairing damaged tissue. Live pro-biotic yogurt can also help avoid infection.
Preferably isolation should not exceed three days in order to avoid the flock "forgetting" the hen but do not re-introduce her if there is any sign of the prolapse remaining for the reasons mentioned earlier.
It is best to re-introduce the hen to the flock during the hours of darkness after they have gone to roost. That way when they awake in the morning it's as if she has never been away.
Give nature a helping hand
This technique usually works well if you have the time. A quicker method is to try reinserting the prolapsed tissue yourself.
Wearing protective gloves carefully apply a lubricant around the vent area and on the prolapse itself then gently push the prolapsed tissue back into her vent. Apply firm but gentle pressure for approximately five minutes and the prolapse should stay in place.
If the prolapse pops out again use some honey on a gloved finger to push it back in. The honey will reduce any swelling and also helps prevent infection setting in.
If you've been advised to use haemorrhoid cream, please stop. It only makes things worse for your hen. Haemorrhoid cream is intended to help haemorrhoidal tissues by shrinking blood vessels. Even though a prolapse is at the chicken's vent, prolapsed tissues are NOT haemorrhoids, or related to haemorrhoids (which are swollen blood vessels). Prolapses are the insides of the chicken, not swollen blood vessels. Applying creams for piles shrinks the blood vessels of the chicken's prolapsed tissues, but does not shrink the prolapse. Instead, it inhibits blood circulation in the prolapsed tissues, drying it and making it tight and sore, which delays healing as the blood carries healing nutrients. Shrinking the blood vessels in the prolapsed tissues also means that any infection in those tissues cannot be cleared away as easily by the blood. So, although using a haemorrhoid cream seems "right" on an intuitive level, using it is actually counter-productive. In fact in some cases it can actually increase the inflammation. Use a lubricating cream instead.
If neither of these methods appear to be working take your hen to a chicken friendly vet as they may be able to suggest an alternative course of treatment and prevent any infection setting in during the healing process.
Most recent Poultry articles