Guernsey: The Golden Isle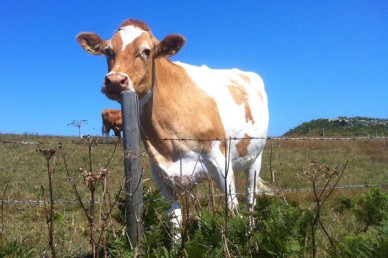 I don't get around to writing as many blog entires as I would like to but after a recent trip to the Channel Islands I feel compelled to tell you about it. It was my first visit to the Bailiwick* of Guernsey and I must say I think a little bit of me remains there. A more relaxing, eye opening, quirky and endearing trip I couldn't imagine.
Firstly, I have got to tell you that there is scenery on the Islands of the Bailiwick that will take your breath away. Rugged cliffs, vast expanses of green fields, secluded bays and beaches that, on the right day, could be mistaken for the very best the Caribbean has to offer. I can't compare to the winter months, having not seen it at this time of year, but during the summer the seas are the most delightful aquamarine and as clear as any I have seen.

A view across the harbour at the Islands capital St. Peter Port
The main island of Guernsey is only 9 miles long so you can drive around it easily in a day. This in itself is an experience as there are no motorways and it is quite usual to have to mount the pavement to allow other road users to pass. You hardly ever see a traffic jam and the box junctions work on a first come first served basis. Even the parking – which is free – works on a certain amount of trust. Each space has a specified amount of time that you are allowed to stay, you then set a cardboard clock showing the time you arrived and display it in your car window to indicate the time you should leave. You may be tempted to cheat the system but fines are strictly enforced I'm told! There are no such problems on Sark or Herm though – there are no cars!
Being that the Island is so close to Normandy, and considering its complex historical relationship with that area, it's not surprising to see a French influence on the Island. The French language is spoken widely and there is even a Guernsey French dialect, Guernésiais, spoken fluently by a small percentage of the population. Nearly all the road names are French although, surprisingly, all other signage is in English, not French or even dual language. You can also see the influence in the food and relaxed atmosphere of the Island… although, thankfully, they do use pounds and pence sterling (albeit their own issue of the currency) and it was comforting to see orderly queues forming where appropriate.
The other culture that I found everywhere was 'hedge veg'. Obviously home-grown produce for sale at the roadside is not peculiar to Guernsey but never have I seen it embraced quite as whole-heartedly as on Guernsey. You can practically do your weekly shop at the road side with everything from fruit, vegetables and eggs, to honey, cut flowers and cheese available – and yes everyone uses the honesty boxes provided.

A typical 'hedge veg' set up on Guernsey
And then there are the animals…..
The wildlife is as quirky as the road laws with the puffins taking centre stage between March and July. I did spend two hours trekking around the entire circumference of the mile and a half long Herm Island trying to spot the eccentric little blighters only to find out later that they had all buggered off the week before! It was a lovely walk nevertheless, with the discovery of the gorgeous Shell Beach a particular highlight, but I guess that is a lesson to always make use of the wealth of local knowledge first!
For the twitchers among you, you may also be treated to sightings of razorbills, terns, shags, fulmars, oyster catchers and guillemots with seals, and even dolphins, making an appearance offshore for those who prefer their wildlife more mammalian.
And yes, finally, the farm animals. While there is no doubt that all the offshore bank accounts and investment opportunities bring wealth to the Island, it truly is the fields that are awash with gold in Guernsey. The goats are golden, the cows are golden, the milk is tinged with gold and the pats of butter are like bars of the finest 24 carat.
It didn't take very long to spot our first herd of Guernsey cows. These beautiful distinctive two tone animals are thought to be descended from the Isigny cattle of Normandy and the Froment du Léon from Brittany. Their rich milk, which has a reputation for being nutritionally superior, is all sent to the central Guernsey Dairy for processing into butter, cream, ice-cream and cheese. There are 15 dairy farms on the island with approximately 2500 head of cattle. Guernseys are the only breed allowed to be reared on the island and any new stock can only be imported from other islands in the Bailiwick such as Alderney and Sark.
More recently Guernsey cows are being used for meat too and, to continue the theme, it is characterised by the golden yellow colour of its fat.
Another highlight was a trip to the goat farm at St Pierre du Bois. Run by Mandy Girard and her husband Peter, who is president of the breed society on the Island, we had a lovely time feeding the kids and learning about the Island's native goat breed the Golden Guernsey.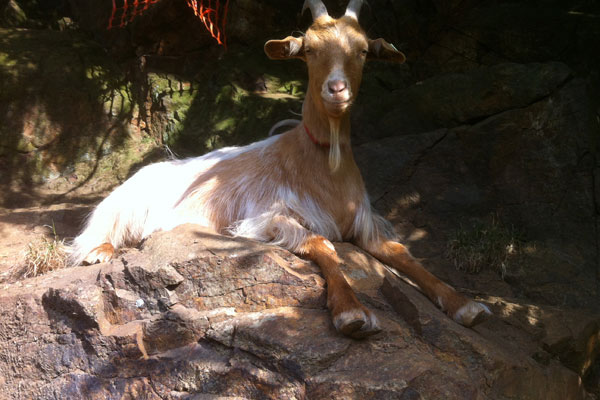 A Golden Guernsey nanny at the goat farm St. Pierre du Bois
A fairly small breed with a docile temperament, the Golden Guernsey was close to extinction at one point due to interbreeding. However, a breeding programme established just after World War II stabilised numbers and secured its future, although it still remains a minority breed on the RBST list today.
As soon as we entered the paddock the residents wasted no time in introducing themselves and they certainly lived up to their reputation for affection with one individual attached to my wife's hip for the entire visit.
This attractive and undemanding breed is hardy, can be kept in a relatively small area and produce more modest amounts of milk than some of the larger, dairy specific, varieties making them ideal for smallholders. I can also testify that cheese from GG milk is just about as good as it gets – we tested it in this risotto recipe and the results were spectacular.
The Girards' usual herd of around 25 animals swells during breeding season to about 75 with kids being sold to owners on other islands and the UK mainland perpetuating their hard work supporting the revival of the GG breed.
For more information on the farm you can visit the Facebook page here but more than that I would thoroughly recommend a visit to the island itself. It has so much to offer even the most seasoned traveller and how many places can claim that all that moos and bleats is, in fact, gold?
* The Bailiwick includes Guernsey, Alderney, Sark and Herm as well as other smaller islands such as Becqhou the Island just off Sark leased by the reclusive billionaire Barclay brothers.
Most recent Blog articles