Growers' yearbook November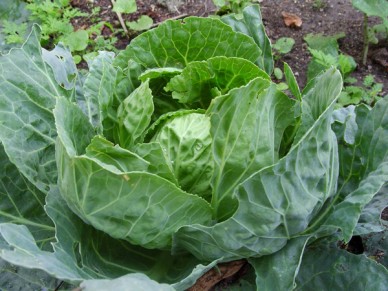 Winter is upon us. A time to enjoy time with friends and family. It's the time to fix fences, build paths and repair tools or try these alternative ideas for winter days. It's time to sit by the fire, stew bubbling away in the background, a glass of home brew in one hand a good book in the other.
It's also a good time to establish an orchard, I would advise to buy 3 year old trees from a decent nursery. You can buy 5 year old trees but they are much more difficult to transplant successfully and more often than not they will be stunted by the trauma of being moved. Planting trees gives you a real sense of satisfaction, knowing that they will be there for the next 30 odd years giving plenty of fruit, some trees will still be stood where you planted them in a couple of centuries time.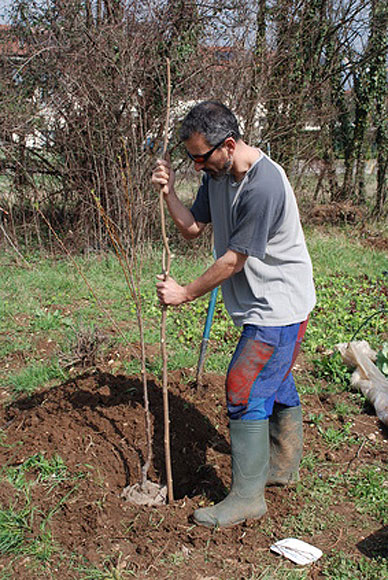 Now is a good time to plant fruit trees
What to do in the garden
Get an orchard going! Now is the time to plant fruit trees apple, apricot, damson, hazel, medlar, peach, pear, plum and quince.
Prune blackberries and gooseberries. Black berries fruit on the previous year's wood so when you prune take out the shoots that have fruited this year, leaving this year's wood for next year's fruit.
Begin forcing rhubarb by lifting one or two plants to expose the roots to the frost, forcing them into dormancy.
If you have been building a fire with fallen leaves, branches and other garden debris remember that these can be attractive shelters for hedgehogs and other small animals so check for residents before lighting.
What to plant
Blackberries, If you have raised plants earlier in the year pop them into the ground, if not, young plants are available from shops. You can train them onto wires. They are easy to grow and give a very worthwhile crop.
Gooseberries should have 5 feet (150cm) between plants. Give them lots of manure if you have it.
Loganberries are a hybrid of raspberries and black berries. They're great for cooking and freezing. Plant with 12 feet (about 3m) between plants and cut back to a bud 9 inches (22cm) above the ground.
Raspberries should be planted 18 inches (45cm) apart. Cut them back to 12 inches (30cm) this will stop them fruiting in the first season but will ensure plentiful crops in the years to come.
Red, black and white currants should be planted 5 or 6 feet (150-180cm) apart in each direction. Once planted cut them at a bud 1 inch (2.5cm) above ground level. This will encourage strong growth for future years, but, again, will mean you won't get fruit the first year.
Rhubarb – prepare the soil with lots of muck. Pop in the woody tuber leaving a couple of shoots visible on the surface, press the soil down with your boot and water in dry spells.
Broad beans do well if planted in the autumn, they get less trouble with aphids than spring sown beans. Sow 1.5 inches (about 4cm) deep, 9 inches (45cm) between rows and 6 inches (30cm) between plants.
Peas can be planted in a shallow trench 1.5 inches (about 4cm) deep and 4 inches (10cm) wide. Inside this trench space the peas about 2 inches (5cm) apart in both directions.
What to harvest
Celery can be harvested now.
Jerusalem artichokes can be lifted and stored in a clamp, they can also be left in the ground and dug up when you want them. I mostly grow them for my pigs who dig them up and eat them straight from the ground.
Leeks can be lifted and "heeled in" to do this lift your leeks with a fork. Make a slit into the soil with a spade some place near your house pop the leeks into the slit and press the soil back with your heel. They will keep for a long time in this fashion. When you want to eat some leeks just pull them up.

Heel leeks in to make them easier to pull when needed
Beetroot should be put into a clamp.
Brussels sprouts keep well on the plant, eat them when you want to.
Cabbage can be harvested and turned into sauerkraut or eaten fresh.
Carrots can be dug up and placed in a clamp or a box of sand in your pantry.
Most recent Growing articles