Growers' yearbook - July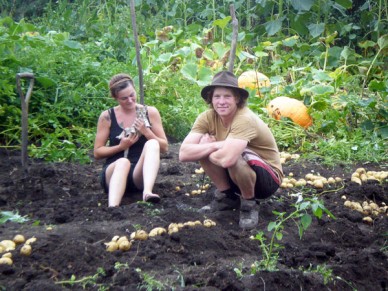 The summer is now upon us. It's time to reap and preserve from the fat of the land. There's an abundance of soft fruit to eat fresh from the plants and to preserve for winter use, be that in the form of jams, jellies, juices, fruit leather or simply plonking them in the freezer. The peas and beans have been or will shortly be harvested which makes room in the garden for any brassica plants that have been growing in the seed bed. You can leave some peas and beans on the plants for next year's seed. 
What to do in the garden
Thin carrots when they're big enough to handle. Do this on a dull and preferably rainy day to deter attack from the blasted carrot fly. I always water my carrots well after I thin them.
Prune blackcurrants after harvesting them.
Cut back raspberries and loganberries to just above the ground after fruiting.
What to plant
Cucumbers can be planted out, Male flowers should be nipped out as they make the cucumbers bitter.

Female cucumber flower (right) is quite distinct from the male

Leeks can be planted out now, to do this use a dibber (a pointy stick) to make holes in the ground pop in your little leek plants and unlike most plant that like to be planted firmly, you just water them well to put the soil back around the plants. Some people like to trim the roots and tops of each plant but I feel this is unnecessary.
 
Kale should be transplanted into its final position with 60cm (2′) in both directions between plants.
Brussels sprouts can be transplanted out now, allow 45cm (18″) in both directions between plants.
Spring cabbage should be sown towards the end of July or the beginning of September for harvesting in April and May. Sow shallowly in drills 15cm (6″) apart and thin when large enough to handle.
Carrots can be sown now for a late harvest. Prepare a fine seed bed that isn't too rich. Sow seed very thinly in shallow drills 30cm (1′) apart. Carrots like a good sprinkle of pot ash (ash from your wood fire).
What to harvest
Globe artichokes make an interesting starter and a nice change but certainly will not fill a hungry belly.
Broad beans are much tastier when picked young and tender. They are an under valued crop. They can be turned into a lot of vegetarian dishes, such as falafel and hummus. You can even make a pate from broad beans.
French beans are a lovely crop. They can be dried, bottled in brine or even salted but they are best eaten fresh or blanched and frozen.
Runner beans should be picked young and tender. They are one of the few vegetables that are still regularly salted. To do this slice them up, pop them into a jar with salt at a ratio of one to three by weight, press them down into the jar and after a week or so they will have shrunk down and can be topped up with more salt and beans. Make sure the top layer is always covered with a layer of the brine that exudes from the beans. Use plastic lids as steel ones will corrode. Keep them in a cool place. When you want to eat them wash them in a few changes of water and cook as if fresh. Of course if you have space in your freezer you can blanch and freeze them.
Peas Try to enlist the help of friends and neighbours to harvest and pod all the precious green bounty. It can be surprisingly fun podding peas over a glass of home brew. We were inspired by the TV series "The Good Life" to have a go at making "pea pod burgandy". I invented a recipe from what I had in the house. I used loads of pea pods, some grape juice, a couple of tea bags, lemon juice, sugar at the ratio of 1kg to the gallon (5L), some wine yeast and a quantity of water. There are more tried and tested recipes on-line but they included things I haven't got. I'm a firm believer in using what you have!
Beetroot isn't used as much as it should be. It can be grated into salads, roasted, added to a stir fry, juiced, used in ice cream, turned into an interesting country wine and my girlfriend makes an amazing goat and beetroot curry. There should be a few small beets available to pick now. The main crop can be pickled or else stored in a wooden box (cardboard would work too) layered in sand, this keeps them cool and moist.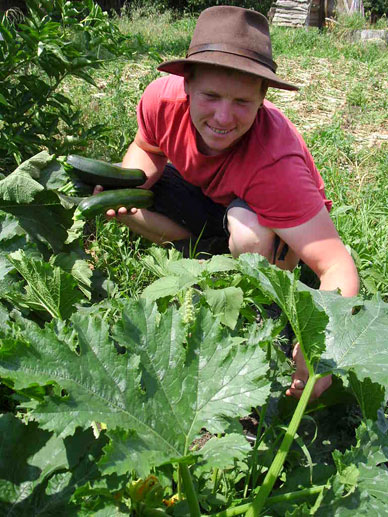 Courgette and marrows can be stuffed and roasted as can the flowers. Marrows store well through the winter if you leave them on the plant to harden their skins and bring in before the first frost although they tend to be bland and I end up feeding most of mine to the pigs. One nice way to make use of the surplus is to turn them into an interesting bright green jam, use lemon to add flavour and to help the jam set.
New potatoes can be lifted now and are simply great boiled then bashed about in the pan with loads of butter, salt and pepper.
Summer cabbage should be about ready to harvest. Use them fresh now and use a later crop for the winter.
Cauliflower should be harvested when the heads are firm. If a few become ready at the same time pull up the whole plants and hang them upside down in a cool shed where they will keep for a few weeks, they can be added to pickle and also blanched and frozen for later use.
Soft fruit should be harvested and preserved as soon as it is ready, it doesn't store well.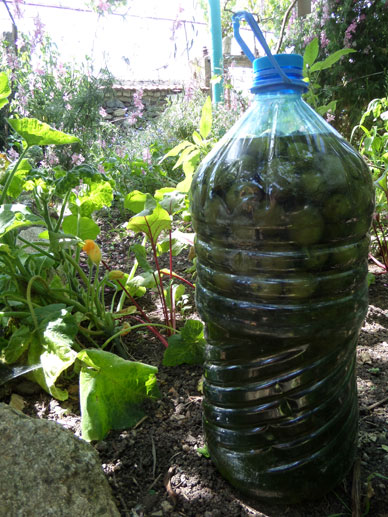 Rakia brandy being flavoured with green walnuts
Green walnuts picked early enough can be used to flavour brandy and any other strong spirits. I have an excessive amount of home made rakia (the Bulgarian name for brandy) so this year I'm experimenting turning it into different liquors. You need to pick the green walnuts when they are still soft enough to push a skewer through and do this with every walnut a couple of times. Put them into a container, cover with your chosen spirit and leave to infuse for 3 months, at this point strain them out and mix up a strong sugar syrup, add this and enjoy. If you want you can now use the once soaked walnuts to flavour red wine and leave for another 3 months. You could mix these two concoctions together to make an interesting alternative port. I'd use a ratio of one part spirit three parts walnut infused wine, then add sugar syrup to taste. You can also pickle the green walnuts.
Most recent Growing articles