Garden Diary: February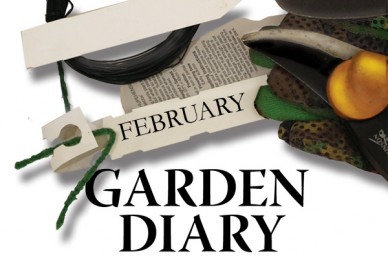 February can be a difficult month with the ground vacillating between solid and sodden. Your mind may be on the vegetable patch but there are a few tasks in the garden before the flurry of activity that is just around the corner… is it really February already?
As with last month make sure that garden birds have plenty of food and fresh water.
As soon as conditions are favourable fruit trees/bushes and canes can be planted. Afterwards mulch with garden compost or well rotted manure – ensure the ground is moist but not frozen before mulching.
Cut back established autumn fruiting raspberry canes to ground level.
If not already done in November cut back rose bushes by about one third removing any dead, diseased or damaged growth to create an open framework.
Prune winter flowering shrubs that have finished flowering including heathers – the easiest way to do these is with shears. Trim back to the base of the flower stalks.
Prune summer flowering shrubs that flower on new wood, such as buddleja, deciduous ceanothus, hardy fuchsia and lavatera. These can all be cut back hard to produce a good show of flowers later in the year.
Keep off the lawn if it is frozen otherwise footprints will show yellow where the grass has been damaged once the frost disappears. New lawns can be laid this month provided the soil is not frozen or waterlogged.
Remember you can stop pots from freezing by raising them on pot feet or bricks. Wrap in bubble wrap and move to a sheltered position if necessary.
Last chance
Cut back overgrown shrubs and hedges before nesting season begins. Deciduous hedges and broadleaved hedges such as Laurel can be cut back hard but Conifers should only be trimmed lightly- never cut back into old wood as it will not produce new growth from here.
Most recent Growing articles