Family activities for the Easter holiday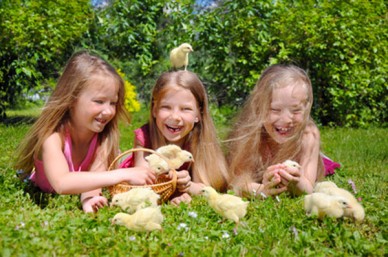 With two weeks to fill Pocket Farm presents a selection of ideas for outdoor and animal related fun to keep you and your youngsters as happy as Larry the Easter lamb.
Farmyard Funworld – Easter Festivities!
As well as all the usual farmyard fun and activities there is the chance to bottle-feed lambs and see the newly hatched Easter chicks. There are also Easter egg hunts on the 31st March and 1st April at 12.30pm and 2.30pm. Adults £5.00, Child £6.00 or joint entry to both Farmyard and Funworld Adults £5.00, Child £9.00
Where: Bushey, Watford www.farmyardfunworld.co.uk Tel: 01923 219902
Standalone Farm
170 acres show farm in Letchworth. A family day out with newborn animals, children's play area, picnic, cafe and a farm walk featuring sheep, cows, goats and horses with free range chickens and ducks. Adults £5.40, Child £4.40
Where: Letchworth www.standalonefarm.com Tel: 01462 686775
Lee Valley Park Farms
Easter Eggstravaganza takes place on Friday, 29 March 2013 to Monday, 01 April. Easter egg hunt, newborn animals and 'is that the Easter Bunny we see?' There are also craft activities and all the usual farmyard fun to enjoy throughout the Easter break. Loads of different animals to meet and an indoor play barn if the weather's not so good. Adult £8.50, Child (2-16years) £7.00
Where: Waltham Abbey, www.visitleevalley.org.uk Tel: 01992 892781
Saturday "Down the Woods" Club
Outdoor fun with your children – creating with natural materials, building shelters and even cooking at a private wood near St Albans.
Parents and children attend together. Child (3-12 years) £5, Adults free. Take place on first Saturday of the Month
Where: St Albans, www.downthewoods.com Tel: 01707 691 807
Mill Green Museum
Lots of drop in activities at the Mill Green Museum including making Easter buns on 2nd April and creating a Japanese miniature garden on the 3rd. Buns £1 each with other drop in activities £3 per child. One adult goes free with child/children.
Where: Mill Green, Hatfield. Mill Green Museum Tel: 01707 357850
Archery Barn
Two hours of indoor 3D target shooting fun. Learn the basics of shooting, scoring and safety from our experienced instructors and then see how you score on the 30 target course. All equipment provided! £15 for the first child, £9 per each additional child.
Where: Brickendon nr Hertford, celticharmony.org Tel: 01438 718543
Top Events
Open throughout Easter so why not take on the Aerial Adventure course or one of the many other have-a-go activities available. Choose from shooting, target paintball, axe throwing, archery, the big zip wire or take a ride on the physics defying Segways. Special offers available, see website for full details. Various prices.
Where: Ware, www.topevents.gb.com Tel: 01462 490269
Church Farm Ardeley
Easter activities including feeding the lambs, egg collecting and tractor rides. Booking is essential
Where: Ardeley nr Steveange, www.churchfarmardeley.co.uk Tel: 01438 861447.
RSPB Rye Meads
The Wacky Wildlife Adventures club for 6-12 year olds is a full day (10am – 4pm) of Easter themed fun. Enjoy activities such as Easter 'Egg-splorers', Springy Sculptures, Feeling Froggy, Rainbow Makers, Spring Savers, Spring Safari. Various dates available, booking essential. Wildlife Explorer members – £17, non members – £25
Where: Stanstead Abbots, RSPB, Tel:01992 708383
Most recent News articles