Chickens: Pure bred vs hybrid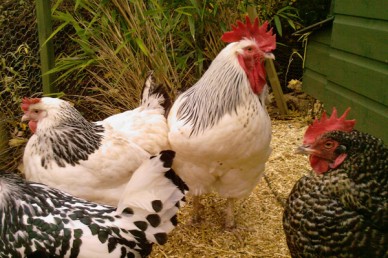 Light Sussex and Marans are both popular pure bred choices
When deciding to keep chickens one of the first and most important decisions you need to make is which type of bird best suits your needs. To some extent the question will be answered by asking whether you want to keep your chickens as a pet, for showing or for meat or eggs. For many it will be a combination of these giving you more criteria to match before making your decision. Luckily there are many, many different breeds to choose from, all with their own specific character attributes and here the experts at Thorne's Poultry Centre focus on differences at the most fundamental level, that of hybrid vs pure breed.
Pure breed pros and cons
Pure breeds present you with a huge variety of birds from the text book New Hampshire Red, to some extremely exotic looking birds such as the fluffy feathered Silkie. However, this can be both a positive and a negative as with so many breeds also comes a wide range of temperaments and characteristics to contend with. For this reason it is important to research the traits of specific breeds thoroughly before you buy to ensure you are pre-warned and fore-armed against any inherent behavioural problems. If you opt for a particularly unusual breed you may also find that the gene pool can be restricted leading to genetic health issues.
Pure breeds generally live much longer than hybrids, but they are not necessarily as resilient when it comes to extremes of weather and disease resistance. They may require a little more attention from their keepers to maintain them in tip-top condition and generally speaking, with a few notable exceptions, this may make them more suitable for more experienced keepers.
Most pure breeds will stop laying during the winter whereas hybrids will continue laying as normal keeping you supplied year round. Some can produce an astonishing 340 eggs a year.

The archetypal hybrid is an ex-battery or 'warren' hen.
Hybrid hype
In contrast to the diversity of pure breed varieties hybrids generally have a uniform shape with flat brown, white or black colours predominating. If you asked a child to draw a chicken you would get a Rhode Star or a Goldline, not necessarily a bad thing and, for some, exactly what they are after. Hybrids were originally just crosses of the more prolific laying pure breeds such as the Rhode Island Red, however breeders are starting to introduce more imaginative crosses that produce a wider variety of colours for both plumage and eggs.
As a consequence of their prolific egg laying hybrids can be very active which means they can be slightly more aggressive towards each other. Their environment may suffer as they energetically scratch and forage. However, their inherent hardiness, predictability and cheaper cost price makes them a good choice for the beginner or anyone who is looking for a consistent egg supply.
Popular hybrid breeds include the Bovans Nera, Columbian Blacktail, White Star and Speckeldy as well as the previously mentioned Rhode Star and Goldline. If you have your heart set on a pure breed you will probably whittle them down by appearance initially and then take a closer look at the characteristics to arrive at the best one to suit your circumstances. Remember some breeds such as Orpingtons can grow very large indeed but for those of you who have space issues many of the pure breeds also have bantam varieties that are miniature versions of the full-size breeds and require far less space and smaller accommodation.
The comments here are generalisations and you will find certain breeds exhibiting behaviour outside of the pure breed/hybrid stereotypes. For the very best insight you should speak to owners or breeders or visit dedicated online breed forums to take advantage of their first hand experience.
Notes on Cockerels
Unless you intend to breed from your stock you should consider carefully before taking on a cockerel. Cockerels can be very impressive to look at and may even offer an effective deterrent to certain predators but they do tend to dominate the flock and can be aggressive which is worth remembering if they will be coming into contact with children. You should also consider that all your eggs will be fertilised which may present you with an issue if you intend to eat the eggs. Above all though is the noise issue with early morning cock-a-doodle-doing likely to have the environmental health officer on your doorstep pretty sharpish if you don't discuss it with your neighbours prior to installing him.
Article produced with the assistance of Thorne's Poultry Centre Letchworth
Most recent Poultry articles