Breed focus: A peek at Pekin bantams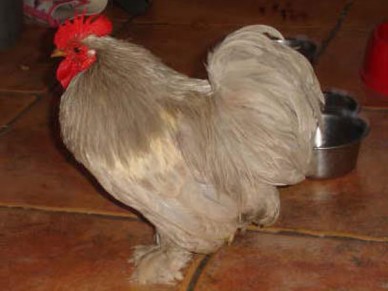 Pekins are a true bantam breed, meaning that there is no large fowl counterpart.
As is often the case there are several suggestions as to the origin of the breed – the most popular alleges that they were stolen from the private collection of the Emperor of China in Peking in 1860 but it is also suggested that a consignment of birds from China around 1835 were given to Queen Victoria, assuming the name of 'Shanghais'. These were bred with further imports and were developed into the breed we know today as Pekin Bantams.
They are often mistakenly thought to be Cochins which are purely a miniaturised version of a Standard Cochin which is the name Pekins are known as in Canada and the United States.

Pekin cockerels have long protruding foot feathers
Shorter than any other bantam, Pekins only reach 20-30cms in height and weigh approximately 570g for a hen and 680g for a cockerel. Their feet and legs are covered by their feathers. These are often called their trousers, or sometimes, skirts. Pekin cockerels have slightly longer feathers protruding outwards from their feet. Being very well feathered makes them look bigger than they actually are. They are often affectionately known as walking tea cosies, powder puffs or fluffy footballs!
Pekins are round bodied and walk with a slightly forward tilt, their heads a little closer to the ground than their beautifully intricate tails which look rather like a bustle. This tilt is one of the main characteristic of Pekins.
They are very docile birds and if handled gently when young they will happily let you pick them up and pet them – they will sit on your knee or perch on your shoulder. Cockerels can become aggressive and defensive of their hens, but they too are more amenable if handled regularly. Highly intelligent, they can be a little strong willed, but they can keep you entertained for hours with their antics. Real little comedians you will never be bored if you have Pekins.
Pekin hens go broody with great regularity and they make excellent mothers. Unusually the cockerels will often help with the nest building and may even take a turn in incubating eggs. It isn't unheard of for cockerels to help mum with the upbringing of chicks and will even raise the brood themselves if mum is unwell or dies.
Moulting usually happens mid/late summer through to autumn and then they re-grow their feathers in winter. They lay small eggs which are normally cream in colour but can be various shades from light to a darker cream. Laying is not their strongest point but they do tend to lay in a pattern e.g. two days of eggs, and one day with no eggs.
They are a good breed to buy for a first time chicken keeper. They make excellent pets for children as they are naturally tame, settle very well and require less space than some bigger breeds. They also make good show birds especially for the novice.
Pekins can look rather pale and anaemic if not allowed on grass to forage but are normally a robust and long-lived bird that loves company. One of their best qualities however is that, although they love to forage, and have been known to help themselves to a little bit of what they fancy, they will not cause the same carnage to your veggie patch or your borders as some other breeds.

Some of the many colour variations of Pekin bantam
They are available in a whole range of colours. Lavender, blue, silver partridge, red partridge, blue mottled, columbian, cuckoo, mottled, buff, black, white, wheaten, millefleur and blue millefleur. There is also a frizzle variety who's unusual curling plumage, rather than being smooth, looks rather like they have had an electric shock.
The only real drawbacks with this breed is that because of their feathered feet and legs they tend to collect insects and the like in them and bad weather conditions can cause dirt and mud to clump on their feet feathers. More often than not these clumps are easily removed if allowed to dry out because all that's needed is to crumble the clumps with your fingers and it just falls away. Regular inspection of their legs and feet is required to search for mites and the like, although they will often eat them when preening themselves. They also preen one another, saving the owner the problem of finding their tiny bodies through all those feathers but, that said, it does not mean that the usual precautions against lice and mites should be ignored. Just like all chicken houses their bedding should always be kept clean and regular precautions should be taken to ensure their accommodation is also clean and as free of bugs as it can possibly be.
Related articles: Round up of true bantam breeds
Most recent Poultry articles