Book Review: Pygmy Goat Keeping - a practical guide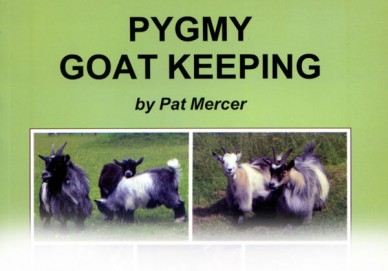 Pocket Farm contributor and Pygmy Goat Club stalwart Pat Mercer has recently published a paperback edition of Pygmy Goat Keeping, a book based on the popular series that first appeared on Pocket Farm in March 2013.
This revised and updated edition is arranged into distinct sections covering information that you will find invaluable when starting out with pygmy goats. Purchasing your goats, providing the correct environment, nutrition and health issues are all covered in some detail with many hints and tips, that only experience can bring, to be found in its pages. For those of you that already have some experience of husbandry but would like to extend your involvement to breeding or showing there are sections to cover these aspects too.
The book is illustrated with colour photographs, many of the author's own herd, and illustrations that support and clarify the text wonderfully.

Clear illustrations and photopraphs accompany difficult to visulise concepts such as condition scoring
Useful appendices covering origins of the breed, breed standards, poisonous plants and useful contacts complete this clearly presented and easy to digest volume which is set to become a 'go to' reference.
Pat's credentials in the field (no pun intended) are evident from her success in the show ring over the years but when you consider she has also held the position of membership secretary, editor and regional advisor for the Pygmy Goat Club it is hard to imagine anyone better placed to advise on the subject.
Pygmy Goat Keeping by Pat Mercer is available on ebay for £7.50 plus P&P. You can find it by searching the title within ebay or at this link while stocks last.
Most recent Blog articles