Amazing graze: conservation grazing for smallholders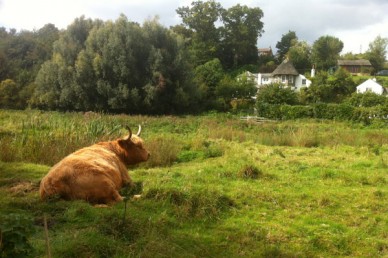 It's no exaggeration to say that vast swathes of what you might consider our natural landscape were actually created by human intervention with much of our semi-natural habitat the result of some form of agriculture, often subsistence farming.
Today grazing plays an important role in maintaining these grassland, heathland and meadow environments that would otherwise return to their truly natural states of scrubland and woodland cover.
Grazing allows less competitive species of plant to establish as the dominant species are removed. Trampling, lying, rolling and other 'damage' caused by livestock can also be beneficial in providing bare soil for seed colonisation. This type of management also benefits the wildlife by providing habitat and food sources.
Smallholders can play an important role in conservation grazing schemes which suit the small-scale livestock keeper for a number of reasons.
One of the most obvious is that smallholders are more likely to keep traditional or native breeds which tend to thrive on a diet of low grade forage that is a feature of many conservation grazing sites. They can also provide additional land at certain times of year enabling smallholders to increase their herd or flocks sizes where appropriate. This in turn can help provide benefits to local communities in the form of new skills, improved, usable and enjoyable surroundings and fresh local produce.

Hebridean sheep thrive on scrub making them perfect of conservation grazing
The vast majority of conservation grazing takes place on land owned by the Wildlife Trusts, RSPB, National Trust, local land trusts and the Forestry Commission, many of which now manage their own livestock
Different areas will need to achieve different goals from their grazing activity so type of stock and breed selection is important, if not essential, to the success of these schemes. Cows and ponies generally munch non-selectively while sheep can be more picky. Other animals such as pigs, lamas and goats, while not used as extensively, would also suit certain areas. However, in all cases, consideration of the dietary requirements of the animal used will always be a prime consideration.
The Grazing Advice Project (GAP) is a partnership of farmers, land managers and conservation organisations committed to promoting the benefits of grazing in respect of the natural environment and our cultural heritage. It currently includes representatives from Natural England, the National Trust, Defence Estates and is managed and run as part of the Rare Breeds Survival Trust.

Conservation grazing on the meads in Hertfordshire
The Project runs two courses – a one day Livestock Checkers course designed for volunteer stock checkers and the two day Conservation Grazing in Practice for livestock keepers wishing to explore the possibilities of the practice.
The Grazing Animals Project website contains a plethora of useful information or you can register to find or offer grazing on the RBST website's 'Marketplace' or on the "Stock-keep" website. Contact the RBST on 0247 669 6551 for more information.
Most recent Environment articles