Absolute beginner's guide to breeding sheep
As I said in my previous article, there is already masses of material in print and on the net covering every aspect of sheep keeping in great detail. For this reason I have tried to write my article in a way that will deal with the fundamentals. With this introduction you will be able to more readily understand the more detailed works on the subject that I hope you will go on to study.
It is now early November and as luck would have it, by far the most logical point to begin a series of articles on the sheep keeper's year. The lambs born in the Spring will have now been separated from their mothers and will either have been sold off the farm or at least be grazing in a part of it well away from the ewes. The flock owner will be considering next year's breeding programme and having to decide which ewes to keep for another year – which, unfortunately, can leave you with some pretty tough decisions to make. But a word of encouragement here; as pretty much everyone who reads this article will be keeping sheep as a hobby (not a profit source – anyone who thinks keeping a small number of sheep is going to contribute in a major way to their income is either being wildly over optimistic or is far more savvy than I am) you can always just pension off your old favourites, keep them well out of the way of the ram and let them enjoy a long and peaceful retirement. Chances are that without the burden of rearing a couple of lambs every year the old crone will take on a new lease of life anyway. I have to admit this is what I have done in the past with some of mine.
Stock selection
When it comes to selecting breeding stock better to have a few good ones that are likely to be trouble free than a larger number that are of doubtful quality. Learn how to check the teeth and the udder and find out about condition scoring, which is not quite as complicated as it sounds. Basically a sheep that is nothing but skin and bone scores one on a scale of one to six and a sheep that is hideously obese scores six. Unsurprisingly, your ewes should score somewhere round about three (told you it was easy!). As the sheep is usually covered in a thick fleece, you cannot readily see how they are going to score on this system, so you will have to feel them along the spine, pelvis and ribs.
Don't breed from a sheep that has prolapsed, or one that has rejected her lambs unless you want the same problem again next year.
If you are doing things in a conventional way, there will be something like five months between the date your ewes were shorn and the introduction of the ram, which gives plenty of time for the fleece to grow. To make copulation between the sheep easier and more hygienic it is common practice to clip away the fleece from round the ewes rear end a short while before the ram is introduced. If a sheep's dung is wet and runny it does not take much effort to imagine what its rear end can finish up looking like and if this happens on any sheep of any category, it should for reasons of hygiene be cut off as soon as possible. As I have said before, not every job you get called upon to do as a shepherd will be as much fun as bottle feeding baby lambs, but if you are going to keep your animals in a responsible way this is one of the jobs you will have to be prepared to tackle.
In shepherd's jargon this task is commonly known as either dagging or crutching and although I don't actually know of any, I am sure there are other less well known terms in use in the more remote parts of the British Isles.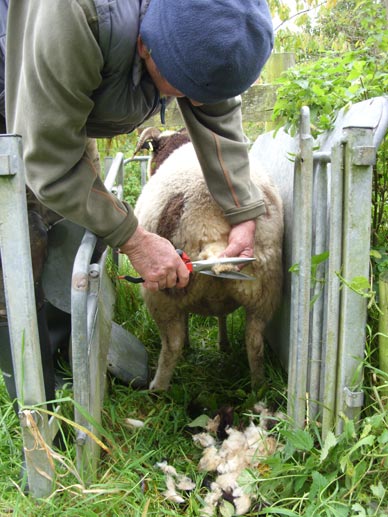 'Crutching' or 'dagging' a ewe to increase the chances of conception and keep her clean
Just like shearing, you can call in a professional with all his equipment to do it for you and just like shearing they will, understandably, be prepared to do it only for a pretty hefty call out fee. So your best bet is to buy yourself a little pair of dagging shears, learn how to use a carpenter's type oil stone to get them razor sharp, put on your oldest clothes and spend a pleasant couple of hours clipping away. Oh, and it's probably a good idea to have soap, a bucket of water and a nail brush handy for when you finish, because the rest of the family are unlikely to appreciate you cleaning yourself up in the bathroom afterwards.

Clockwise from top left: dagging shears, raddle, foot shears (the orange pair are the older style and the green ones are a bit more modern), leg crook, neck crook and nut bowl
Introducing the ram
One ram should be all you need for up to forty ewes, so the ram alone is not a large part of the total cost of the flock. However, your ram is as they say, 'half the flock', meaning that 50% of the genetic make up of any lambs born will come from the father. So even if some of your ewes are from rather indifferent stock you can go a long way towards improving matters by shelling out some serious cash for a decent ram.
It should be obvious that it is not good practice to mate animals that are closely related and by the end of their second summer ewe lambs will be ready to breed, therefore, if you do want to breed from them you are going to have to change your ram every two years to avoid matings between father and daughters.
If you bought your ram when he was a youngster and you have used him for two seasons he will still have quite a few good years left in him, so if he is a purebred, you ought to be able to sell him on to someone else and if this is your plan then advertise him EARLY in the tupping season because nobody will be interested in him at the end!
You can use any breed of ram on any breed of ewe and get lambs. In fact, commercial flock owners will most frequently cross breed their sheep, with the result that there are probably more cross bred sheep in Britain than there are pure bred ones. Mind you, they definitely don't do this in a random sort of way! Hill farmers who's situation compels them to keep small tough breeds of ewes such as Swaledale, Welsh mountain or Scottish Blackface, that can cope with these harsh conditions, will get a few extra pounds for their lambs by using a ram from one of the bigger and more prolific breeds of sheep, which these days is usually a Blueface Leicester. The ram lambs from these matings will just go for meat of course, but the ewe lambs can be sold on to commercial breeders in the lowlands and the South, who will then mate them to rams from one of the specialised 'meaty' breeds,such as a Hampshire Down, Suffolk or Texel in order to get the lambs that will be most appreciated by the butcher and therefore sell at the highest price.
The harsh reality is that ewes in a commercial flock will probably only last five or six years before being sold on for pet food, so anyone who keeps cross bred ewes will have to go to market or more probably a sheep fair every Autumn to buy in whatever replacements are needed. If you are keeping a pure bred flock then you can breed your own replacement ewes and just change the ram periodically as already discussed. I know which I would sooner do.
Doing the buisness
Most flock owners and pretty much all the other texts on sheep breeding that are in print will make it sound like getting ewes in lamb is really difficult: after weaning they need to be reduced on poor grass, flushed on something better, some folk even going as far as to buy concentrates for this purpose, then you need a teaser ram and finally your stud ram will have to have his feet carefully checked and maybe he too will have to be fed a special diet.
If you are breeding sheep for a living you will be working on a very tight margin and will have to use every trick in the book to maximise your lamb crop, but as a hobby farmer your lambing percentage as it is known, will probably be of less importance to you and on a small acreage you may find it difficult to organise the appropriate grazing anyway, but don't worry, you will almost certainly still get your ewes in lamb without reducing, flushing or teasing as long as they are fit and healthy.
Although I have never kept more than about a dozen ewes at any one time, frankly in all the years I have been doing it, I have only ever had one ewe that failed to get herself pregnant in the first three weeks of the ram being introduced. So chances are that you will have the same result with your little flock and, in fact, you are probably more likely to find that weeks ahead of schedule, your ram has got so impatient that he has jumped a couple of fences during the night and got himself into the ewes field and gone straight to work. If you read my previous article, you may remember I urged all new flock owners to start off their career with some really sound fences; this is just one of the reasons!
Be very careful about keeping two rams together, especially in the breeding season. If you have never seen two rams having a serious fight, I can tell you it is quite something to behold. They start off nose to nose in what seems like a friendly enough way, then while carefully maintaining eye contact each will take the same number of steps backwards, put their heads down and simultaneously charge, meeting head on with a loud and sickening thud. If you don't separate them it is quite possible they will go on repeating this little exercise until one of them dies. When this does happen it is usually due to spinal injuries, the skull seems pretty well indestructible. Its easy to see where the battering ram gets its name from.
It is very useful to know exactly when or even if your sheep are going to lamb, and the simplest way to get a good idea of this is to 'raddle' your ram just before he goes into the field with the ewes. This means simply that you put some coloured marker substance on the rams chest so that when he mates with a ewe he will leave behind a mark on her rump. The modern way of doing this is to put him into a nylon harness that has a marker crayon attached to it. If you are a total beginner, don't get confused here; you can get things which look like oversized children's crayons which are referred to as stock markers and you can also get cans of coloured aerosol which also go by this name; neither of these is the same as the square blocks called crayons that you use in a raddle harness and they are not the same as raddle powder.
This last mentioned item is the traditional way of going about the job and you do it by mixing up raddle powder and vegetable oil and smearing it onto the ram's chest either by hand or with a wooden spatula of some kind. If you are going to do it by hand at least wear a glove, and in either case wear some old clothes and mix it up quite stiff, don't have it on the thin side or it will go all over the place and, as it is designed to be a long lasting coloured marker, will be quite hard to remove. Finally, whichever method you use, for your own safety, apply the raddle before the ram can see the ewes. Don't try putting it on him at the last minute when you are standing at the gate into the ewes field, because he will probably be getting quite excited by then and could either butt you in the face or knock you over in his eagerness to get started.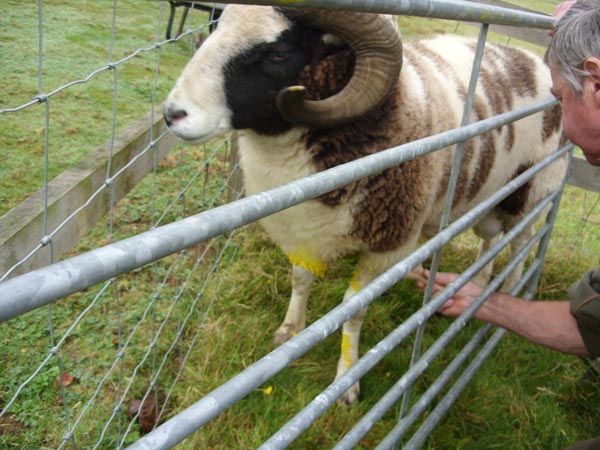 Main pic and above: Applying raddle in a traditional way with a spatula
If you have ever done any painting you will know that a dark colour covers up a light one far more effectively than a light colour covers up a dark one. So, say you decide to use three different colour raddles it's probably best to use yellow red and blue and to put them on your ram in that order, changing the colour every two weeks. Ewes will only mate when they are in season which is about every seventeen days, and obviously do not come into season again once they are pregnant.
Now your common sense and knowledge of worldly matters should tell you here that, if you go out one morning soon after the ram has gone in and see a yellow mark on your ewe's rump, she could well be pregnant; if after you have moved on to red raddle a red mark appears on her then she was not impregnated when the ram left his yellow mark on her and, of course, if in time a blue mark appears on her she was not made pregnant at the time the red mark was put on her either. Again it's a matter of common sense that if you have a lot of ewes and most get a yellow mark but never go on to get the other colours then they were impregnated the first time round, and both ram and ewes are functioning as they should.
If you have just one ewe that goes on to collect the full set of colours, she might be having a good time but she is probably infertile. If all or most of your ewes go through the full set of colours it's more likely that the fault is with your ram, and of course by the time this sad truth dawns on you, your breeding program for the next year is irretrievably several weeks behind schedule.
147 days to go and counting….
As long as you don't mind the possibility of a protracted lambing period you can leave the ram in with the ewes until you start feeding concentrates to them. There are two reasons why you need to remove the ram at this point. The first is that ewe nuts contain a high concentration of minerals which are great for pregnant animals but will give male sheep bladder stones if consumed in large quantities; the second is that rams are greedy and inconsiderate blighters, and at feeding time will butt the poor old pregnant ewes in the stomach in order to get them out of the way.
The gestation period of a ewe is 147 days and in my experience they never vary much more than about a day over or under this period. If you have used the raddle method suggested you can at least predict the lambing date to within two weeks , but if you have a small flock of pet sheep that you know by name you might want to be more accurate and make entries in your diary for next year along the lines of :- 28 March 'Flossy due today'. It's what I do and find that it helps as you can keep an eye on the relevant animal and are more likely to be aware of any problem developing. But whatever record keeping system you decide to use, you now have just a few months to get ready for the biggest event of the shepherd's year: LAMBING!!
Most recent Livestock articles